Monthly Archives:

October 2016
Deepening our roots | We're marking October with a brand new logo
The Hundred Wellness Centre Dubai is delighted to share something exciting with you – the first exclusive look at our new emblem. Discover the inspiration behind our revamped logo, created in collaboration with the talented Imagist London (who also designed the Hemsley + Hemsley logo) here…
Happy October lovely people. We are so excited to share our revamped logo with you today – which marks a new journey for us at The Hundred Wellness Centre Dubai, and the first of many inspiring things to come, Enshallah…
To create our new logo we worked closely with Imagist London who have previously worked with The Hundred's favourite foodie sisters – Hemsley + Hemsley. As many of you will know, the 'Hundred' in our name refers to the classic Pilates move, which is also called the hundred. This movement, first created by Pilates founder Joseph Pilates, focuses on the core of your body. It's a movement that engages every single muscle in your body (like many Pilates exercises), and prepares you for your Pilates class and the day ahead. It's one of the key foundations of the Pilates method – and the reason we named our health and wellness concept after it… As The Hundred Wellness Centre founder, Asma Hilal Lootah explains: "I picked a pilates move name because we started as a pilates studio and my passion for pilates is what kickstarted all of this. I chose 'the hundred' specifically, because it evokes nice memories with the group I used to practice with. We became friends and used to complain when we had to perform 'the hundred' because it's quite challenging – but also with the 100 breaths it's just lovely. We dreaded the effort involved but absolutely loved the achievement and the results."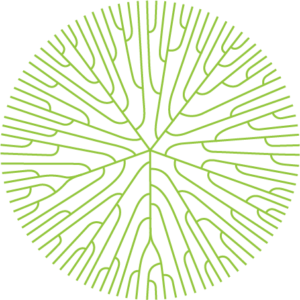 "The Hundred Wellness Centre is a place rooted in its location and if you look at our new emblem, there's a real sense of rooting. Of being at one with nature and all of the different 'shoots' of wellness that you can awaken your body and mind with and explore with us here…"
Imagist London worked closely with us to bring the philosophy of both The Hundred Wellness Centre Dubai and the hundred Pilates movement into – what we hope you will agree – is a beautiful new emblem.
If you look closely, you will see that it looks like the core of a tree. When we created our wellness centre in the heart of Jumeirah 1 in Dubai, we wanted to offer a sanctuary that could function as the core of your healthy lifestyle needs. This is why we worked so hard to find the very best people to provide the very best wellness services for you – including Pilates, super circuit, physiotherapy, Gyrotonic, yoga, homeopathy and natural medicine, and so much more – all under one roof. This is reflected in the new logo, the core is both our centre and the exercise, and really the foundations for your health and wellness journey with us.
"The Hundred Wellness Centre is at the core of your wellness needs. Our new emblem captures that perfectly, and we hope you will love it as much as we do."
Metaphorically, when we think about our little centre in Jumeirah, it is very much a place that is rooted in its location and growing in wisdom and life. The wisdom is provided by our experts and the life is provided by our inspiring clients. And of course with wisdom comes growth. Your growth is our passion, whether it's overcoming an injury with our physiotherapist, improving your strength and core with our Pilates workouts or educating yourself about the very best nutrition you can give your body with our workshops and supplements. Again, if you looks closely, you will see that this growth – which is at the core of our passion – is represented as the branches or lines of the emblem grow in size and direction.
Our new emblem also features 100 little lines or branches (count them!) and 5 roots – or bigger lines – which represents the five breaths in and five breaths out that you do with the hundred Pilates movement. Also, if you look at the negative space surrounding our new emblem, you will see that there is a little leaf, which was a totally organic, happy little accident. We hope you love it as much as we do, and we look forward to sharing more new things later this year… Stay tuned.
Feeling inspired? Find out more about the fitness classes available at The Hundred Wellness Centre Dubai here and start your ultimate health journey…
---
gyrotonic® & gyrokinesis® at the hundred pilates studio in dubai | contributed by sara simmons, certified pilates instructor
Sara Simmons introduces us to the world of Gyrotonic® And Gyrokinesis® here at The Hundred Pilates Studio in Dubai | www.thehundred.ae.
GYROTONIC is very popular in the USA as well as across Europe and Asia. Unfortunately, it is not very well known into in the Middle East (yet!). As far as I know, I am currently the only certified teacher in the UAE.
Just a little bit about myself: I was a collegiate gymnast, doubled majored in Physical Education and Sport Science and Psychology, I am pilates certified through PhysicalMind (2000) as well as ACE certified personal trainer, GYROKINESIS certified (2003), GYROTONIC certified (2005), GYROTONIC level 2 certified (2011). I owned and operated a studio in Raleigh, NC before relocating to Dubai with my husband and sweet puppy July 2009. I have a 14 month old very active little boy.
Exercise has always been a part of my life ever since I started gymnastics at age four. After teaching pilates and personal training for several years, I felt the need to add something a little different. GYROTONIC was definitely different and unlike any other type of exercise I have done, yet so familiar. The fluid, spiraling, undulating movements were exactly what my runner/triathlete body needed. Not to mention the mind, body, spiritual connection it provided. GYROTONIC exercises are organic and natural in their movement.  Sessions are generally 55min for GYROTONIC and a bit longer for GYROKINESIS.
---