Monthly Archives:

December 2012
the art of breathing in pilates
Expert Q&A with Sian Collins from The Hundred Pilates Studio in Dubai: The Proper Pilates Breathing Method

---
now sold at the hundred, new toesox colors plus limited edition for the holiday season
Made with organic cotton, Toesox with a grip are soft on your soles and the planet.
Non-slip gripping sole
A barefoot feeling without cold feet
Promotes proper foot alignment and Increases blood circulation
No bunching or twisting
Eco-friendly organic cotton
---
surprise your loved ones with a pilates gift voucher!
With the festive season coming up and for upcoming birthday / celebrations, we have created a colorful The Hundred Pilates Gift Voucher to spoil'n'surprise your friends and loved ones with a healthy treat! Our new gift voucher can be used for any pilates private sessions , classes or toesox.
Simply ask for the voucher at our studio or reach us at 04- 429 8433 to inquire more.
www.thehundred.ae
---
the fascia, the anatomy trains and the pilates methodology ~ by karin locher
Re-storing, re-forming and re-setting the Fascia
Did you know that there are 10 x more sensory nerve endings in your fascia than in your muscles? That the fascia is our system of stability (Thomas Myers 2012),our greatest sensory organ (Robert Schleip) and our biomechanical regulator?
Through the design of the Pilates Method,  a consistent inner myofascial contact  before and during movement is made; bringing awareness of your fascia's connectivity. From this connectivity you are able to renegotiate to restore the elasticity and continuous connectivity of its fibres, and thus the health and functionality of the mechanical regulation of the body.
Re-storing, the 'give and take' in the elasticity of the tissues to re-pattern movements, renews mechanical functionality and maximizes stability to support the structure – quite literally, 'shape shifting' the skeletal architecture.
Using Thomas Myer's revolutionary Anatomy Trains map, we are able to see and learn the direction of force and connectivity along the fiber. We are able to recognize and influence compensatory patterns that have derailed transmission, loosing mechanical information along its pathways, thus creating functional disorder; the fascial patterns that lead to our symptoms.
---
all things pilates – mat based & equipment – at the hundred pilates studio dubai
Welcome to our Pilates studio where we dive into all our sessions held at The Hundred Pilates Studio in Dubai Healthcare City. We briefly talk about the benefits of Pilates, Descriptions of our sessions and a showcase a video on each session to help you discover what a reformer, Cadillac, chair and pole Pilates is all about!  The benefits of our equipments as a transition from the mat, is not only exciting, but definitely rewarding, challenging and rejuvenating as we help reawaken your core to help strengthen, lengthen and improve your postural muscles. So, here we go…
---
new you magazine featuring derryn brown personal trainer from the hundred personal fitness, dubai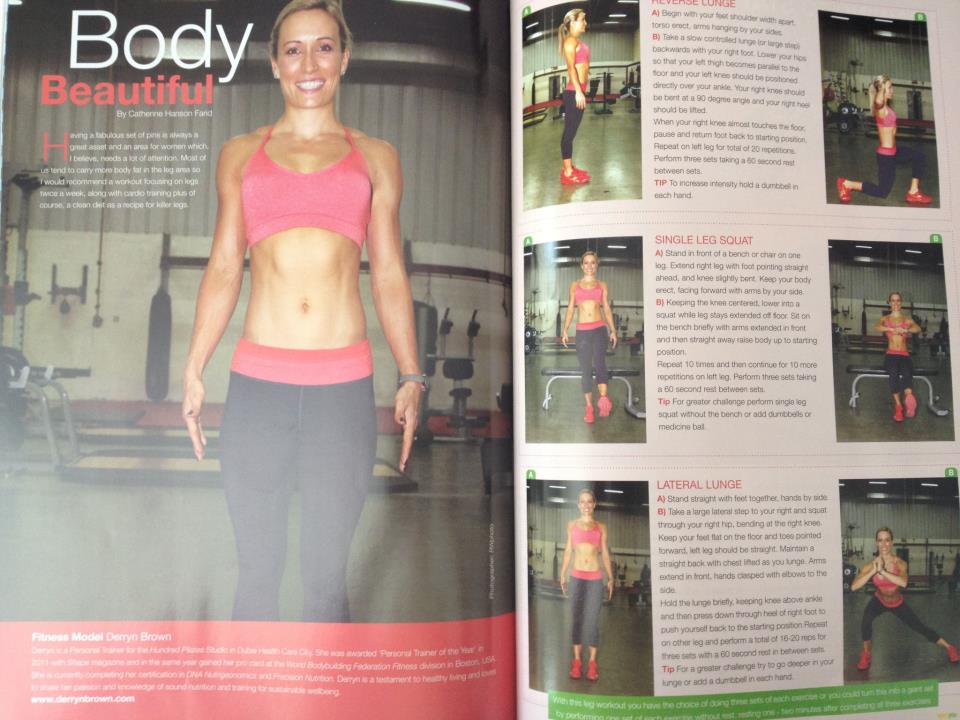 Derryn Brown Personal Trainer for the Hundred Personal Fitness shows us a quick Lower Body workout. New You magazine September issue.
---