3 Delicious Vegan Desserts to Try this Eid-Al-Fitr!
July 11, 2015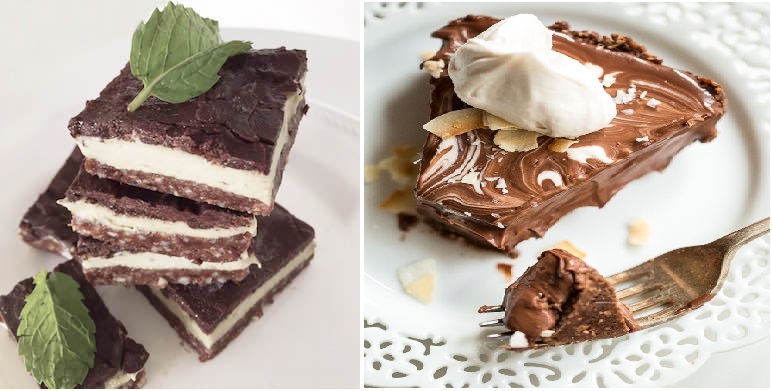 Indulging in good food is something we all love to do, especially during holiday times with our friends and family. For the upcoming Eid Al Fitr, we have tried out some delicious and indulgent, yet healthier desserts to share with your loved ones. We all deserve a little indulgence now and then so with these vegan, sugar free and gluten free recipes you can have all the sweetness without the guilt!
Double Dark Chocolate Coconut Macaroon Tart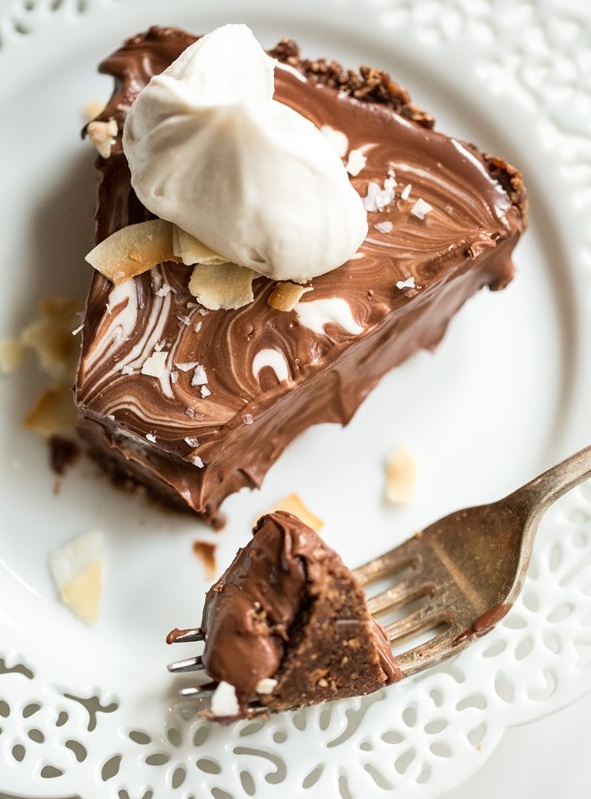 This is definitely a dessert whose name even makes your mouth water! With a velvety, chocolate taste and an underlying hint of coconut this is a must-try for this Eid Al Fitr.
Ingredients:
For the crust:
1 1/4 cups packed pitted Medjool dates (see note)

1 1/4 cups unsweetened shredded coconut

2 1/2 tablespoons ground flax seed

2 1/2 tablespoons unsweetened cocoa powder

1 tablespoon coconut oil

1/4 teaspoon fine grain sea salt, or to taste

1 teaspoon water (if needed to bind the dough)
For the filling:
3 (70%) good-quality dark chocolate bars (300 grams total)

1 (400ml) can full-fat coconut milk, room temperature

4 tablespoons pure maple syrup (or liquid sweetener of choice)

1 teaspoon pure vanilla extract

small pinch fine grain sea salt
Coconut whipped cream (optional):
1 (400ml) can full-fat coconut milk, chilled overnight

1 tablespoon pure maple syrup (or liquid sweetener of choice)
For the garnish:
1/2 cup toasted large flake coconut, flaked sea salt, leftover coconut whipped cream (optional)
Directions:
Toast the coconut (optional step, but recommended): Preheat oven to 325F. Place shredded coconut and large flake coconut (if using for garnish) on baking sheet. Keep separate on baking sheet. Toast in the oven for 5-10 minutes, until lightly golden but not brown. Set aside to cool.
Line a 9-inch glass pie dish with 3 (2-inch wide) strips of parchment paper, one going each direction, with overhang. Now place a large piece of plastic wrap on top and press down. The parchment strips will allow you to lift the pie out after freezing. I highly recommend doing this or the crust will stick miserably to the dish.
Prepare the crust: In a heavy duty food processor, add the pitted dates and process until finely chopped. A big ball will form. Add in the rest of the crust ingredients (including the toasted shredded coconut – but not the large flake coconut) and process until everything is combined. The dough should stick together when pressed between your fingers. If it doesn't, add optional water and process again.
Spoon the crust mixture into the prepared pie dish. Spread out evenly. Starting at the centre, press down firmly moving outward and up the sides of the pie dish. Place dish in the freezer while you prepare the filling.
Prepare the filling: Break up chocolate bars into chunks and place into a medium-sized pot. Melt the chocolate over the lowest heat setting (or use double boiler). When the chocolate is 2/3 of the way melted, remove from heat and stir until completely melted and smooth.
With a spatula, spoon the melted chocolate into a large bowl. Now pour one entire can of room temperature full-fat coconut milk into the bowl with the melted chocolate. Whisk vigorously until completely smooth. Finally, whisk in the maple syrup, vanilla, and a pinch of salt until smooth. Set aside.
For the whipped cream (optional): Open the can of chilled coconut milk and scoop off the cream portion only. Discard the water or save for a smoothie. Place the cream into a bowl along with one tablespoon of pure maple syrup. With electric beaters, whip the cream until smooth.
With a spatula, scoop the chocolate filling into the pie crust (to avoid overfilling, you might want to refrain from using all the filling- see my note below). The pie dish will be very full.
Drop a few tablespoons of whipped cream all over the chocolate filling and swirl it all around with a knife. Carefully transfer the pie dish into the freezer on a level surface for approx. 3 hours, or until firm throughout.
Remove pie dish from freezer and let sit on the counter for 5-10 minutes. Grab the parchment paper and lift the pie out of the dish (I had to grab the strips of paper and wiggle it back and forth several times before it popped out).
Slice and garnish with toasted coconut flakes, leftover coconut cream, and flaked sea salt, if desired. Serve immediately as pie will soften quickly.
Notes: 1) If your dates are firm, soak dates in a bowl of water for 30 minutes prior to starting. Drain well. 2) You can totally skip the coconut whipped cream if you prefer. 3) The chocolate filling makes almost too much filling for the pie and it nearly overflows. If you prefer, you can leave out 1/4-1/2 cup of filling. You can place leftover filling in a small dish and freeze it, then cut into "freezer fudge" – just an idea!
Recipe found here
Avocado Mint Cream Bars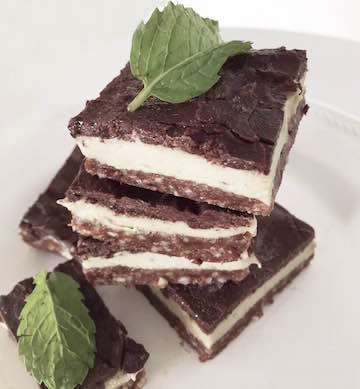 Ingredients:
Crust
1 cup raw almonds
1 cup pitted dates
1 tbs cacao powder
Filling
1 avocado, pitted and peeled
3 tbsp coconut oil, melted
3-4 tbsp maple syrup
1 banana
1/2 tsp vanilla extract
5-10 drops peppermint oil, I used peppermint extract
Pinch of salt, optional, I used celtic salt
Topping
3 tbsp cacao powder
3 tbsp coconut oil, melted
2 tbsp maple syrup
Directions:
Place the crust ingredients in your food processor and pulse until combine or the mixture is coming together like in the picture. With a spatula press evenly into the bottom of a 8×8-inch square baking pan previously lined with unbleached parchment paper.
Blend the filling ingredients in the food processor until smooth and spread evenly over the crust. Freeze while you prepare the topping. In a small bowl mix the topping ingredients and pour over the middle layer making sure to spread it evenly.
Freeze bars until firm. To serve let the bars thaw at room temperature for 20-30 minutes and cut as desired.
Recipe found here
Avocado Pineapple Popsicles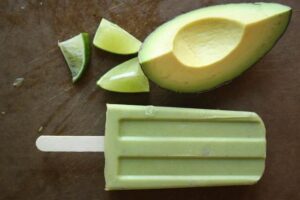 These are perfect to help you cool down over this hot Dubai summer and can be prepared well in advance of any event.
Ingredients to make 4-6 popsicles
1 cup fresh pineapple juice
½ cup of regular coconut milk – found in The Organic Food Store
1 ripe banana
1 avocado
Juice of 1 lime
Popsicle molds
Directions:
Place all the ingredients in a fast speed blender or Nutribullet, and process until smooth. Fill your Popsicle molds and freeze over night.
You can also use the Zoku Quick Pop Maker, where you freeze the base for 24 hours ahead of time, and then when you are ready to make the actual popsicles it only takes 7-8 minutes. Either way makes delicious and healthy popsicles – perfect to help you cool down over Eid!
Try out these fab Eid desserts and let us know how you get on!
Asma Hilal Lootah,
Owner & Founder of The Hundred Wellness Center.
Winner of Mohammed Bin Rashid Award 2010
Emirates Woman of The Year 2012
---