fully raw fruit pizza
August 25, 2015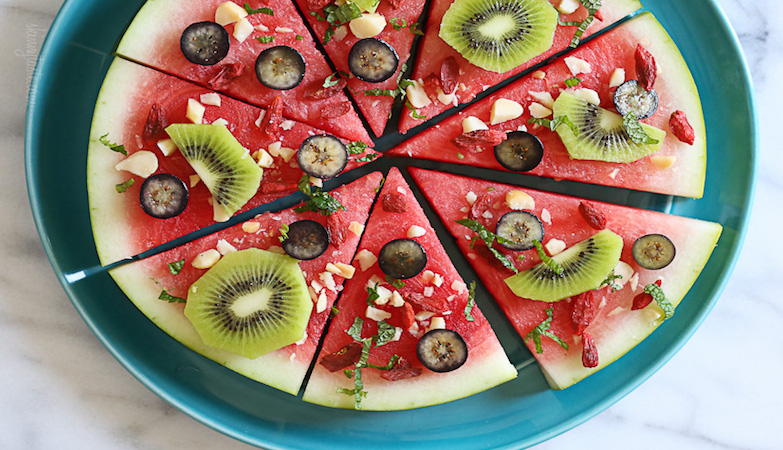 Everyone loves a pizza, especially kids! Whether it's the delicious, stringy cheese or the concept of eating slices with your hands that excite children, it's a meal that the majority of kids love. However, with an average of over 800 calories in your everyday pizza, this is an unhealthy meal to be eating on a regular basis.
We have found a fun alternative to pizza that looks just the same but is fresh, juicy and healthy! The watermelon pizza can be created in as little as 15 minutes and is a really fun activity to do with your kids. You can also wrap up slices and add them to their lunch boxes to give them a fruity dessert or snack.
Ingredients:
1 large slice of Watermelon
1 Kiwi
A handful of goji berries
A handful of blueberries
Chopped nuts
Grated white chocolate or chopped coconut
Method:
Cut the watermelon into a large slice, shaped like a pizza base.
Add slices of kiwis, goji berries and blueberries to the watermelon base.
Sprinkle the white chocolate or coconut flakes over the top and add the nuts.
Cut the watermelon pizza into slices and serve!
This is an extremely quick and easy fix to give your kids a fun and healthy lunch option. With a subtle taste, watermelon is a great fruit to feed to the little ones and by being shaped like a pizza it's an exciting way to make sure they get fresh fruit.
---