MOVE IT into your Marathon training!
December 17, 2015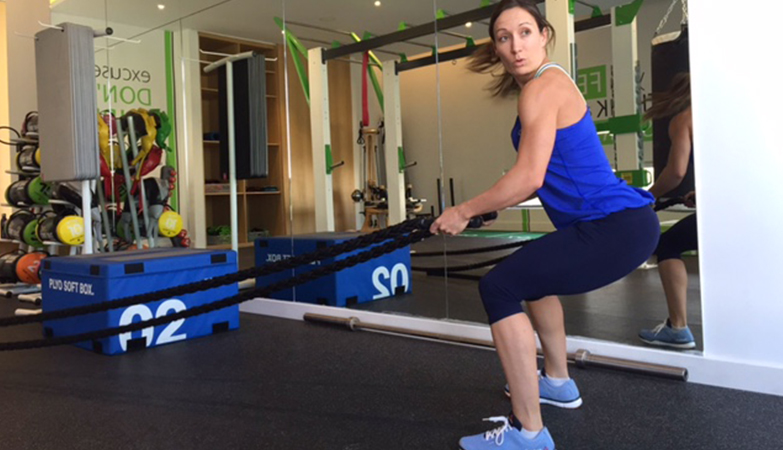 This month sees hundreds of people take part in the Standard Chartered Marathon around the streets of Downtown Dubai. With so much training put into getting your body ready for a marathon, we speak to our fitness instructor Derryn Brown on how the Move It classes at The Hundred can help your body prepare.
What are the fundamental things to bear in mind when training for a marathon?
Nutrition: Making sure your nutrition is on track and you are eating healthy clean meals with lots of good carbs making up the most of your diet. Another important point to remember is to stay hydrated not only to avoid heat complications but also to run effectively.
Shoes: Making sure you get the right shoes for your feet, taking into account pronation/supination. When buying shoes, make sure the staff is well educated to be able to help you select the correct running shoes.
Supplemental Activities: This being one of the most important ones to consider, without a doubt to run a marathon successfully, you need to make sure you log the necessary miles leading up to the event. It is important to include cross training activities (Move It Classes), along with regular stretching etc this will help reduce injury and to work on total body conditioning.
How can Move It classes incorporate into a training regime?  
The move it classes will go hand in hand with training for a marathon, helping to strengthen the opposite muscle groups so that an overuse injury does not occur during your running. It's also great for developing strength and overall conditioning for the body, as well as good core strength.
Are there specific areas you should work on during marathon training, such as only leg training or core etc.?
The most important areas to be working on are getting those miles in, while simultaneously building strength and total body conditioning to keep your joints, ligaments and muscles super strong and healthy.
 How can Move It classes help with your body post marathon?
Building strength in the areas of the opposing muscle groups as I mentioned previously. The classes can help develop good core strength, strong lower and upper body strength as well. Move It offers a complete full body conditioning class at its best. J
 Are there particular stretches you should be doing in the hours after the marathon?
Yes, I would focus on active isolated stretches from head to toe, and some trigger point therapy to work through those niggly spots.
What are your top fitness tips for 2016?
My tips for 2016 would be:
Get involved in some kind of sport, whether it's netball, swimming, soccer, walking, or running – just try any activity other than the normal activities that you do.
Do more Pilates, perfect to complement your training.
Try out Functional Training, which focuses on everyday movements we do on a day-to-day basis in a challenging way.
Whatever your strengths or weaknesses, are whether you are a fitness guru or have never done a class before, the move It classes are perfect for everyone!! Call the centre now and book your place!
---