pear, feta & pecan salad ~ inspired by becky hart
April 8, 2013
The art of salad-making lies in the arrangement of colors and shapes. A carefully tossed salad can transform the simplest meals! Recently, Becky Hart, a sports & exercises science expert, certified personal trainer and corrective exercise specialist at The Hundred Pilates Studio created this innovative &  wholesome salad for a group of friends who were surprised at the delicious use of pears.
Becky also loves spinach which provides a cooling effect,  helps rid toxins out of the system and is rich in iron and Vitamin B. Great for perking up the sluggish system! We hope you enjoy re-creating this recipe at home – drop us your feedback in the comments box below!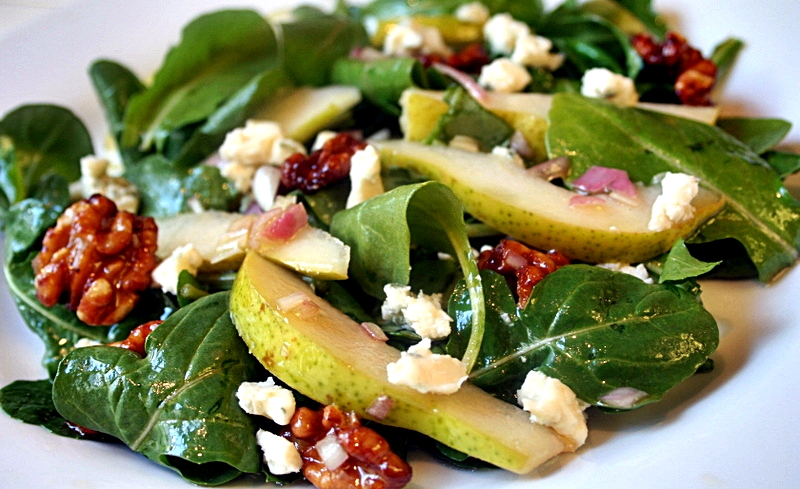 Pear and Feta Cheese salad recipe:
Serves 6
Nutrition Facts
Kilojoules: 1000
Calories:240
Protein: 7g
Fat: 17g
Carbohydrates: 13g
Sodium: 580mg
Potassium: 470mg
Calcium: 95mg
Iron: 2mg
Fibre: 5g
Ingredients:
3/4 cup pecan nuts
1/2clove garlic
1tsp salt
1 lemon, zest grated and juiced
1/4 cup macadamia nut oil
1cup water
250g baby spinach leaves
1 punnet cherry tomatoes halved
3 pears
100g reduced fat feta cheese crumbled
*salad leaves and raw vegetables and fruits should be soaked for 15 minutes to remove parasites and undesirable microorganisms in 1/4 cup of apple cider vinegar per sink full of water.
Directions:
1. Place nuts, garlic salt, lemon zest and macadamia nut oil in food processor
2. Process to form paste, add water to nut paste until sauce forms.
3. In salad bowl, place spinach leaves, tomatoes and lemon juice. Toss.
4. Add sliced pears. Pour nut oil over salad and serve topped with crumbled feta and enjoy!
---