rosemary mini egg frittatas spinach, salmon and more
January 22, 2013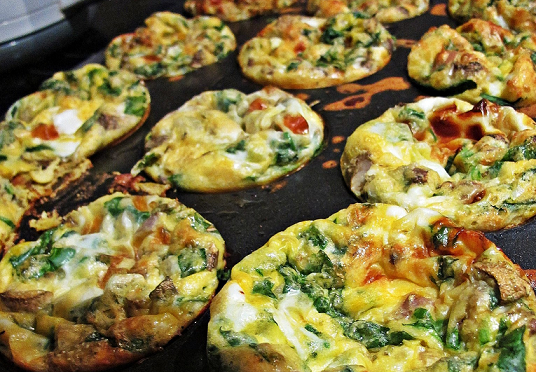 Ready in just 20 minutes, this delicious recipe whipped up at home can triple up as a full meal when it comes to     breakfast, lunch and dinner. A savior when you are short on time and budget to get creative in the kitchen!
Packed with essential amino acids, 9 grams of protein per egg, lutein and zeaxanthin to help prevent cataracts, 300 micrograms of choline which is an important nutrient that helps regulate the brain, nervous system, and cardiovascular system, only 5 grams of fat per egg, Vitamin D and B12 – great for your hair, skin and nails.
Pair this recipe up with green salad and you'll feel satisfied, light and healthy!
Ingredients:
3 whole eggs
3 egg whites
1/2 cup low fat milk
3 tbsp low fat feta cheese (or Parmesan – I like the tangy taste of feta)
2 tbsp red onion chopped
3 tbsp mushrooms chopped
1/4 cup spinach chopped
20grams of smoked salmon (omit if you aren't a salmon fan)
1 tbsp of rosemary sprinkles
Nonstick cooking spray
Directions:
1. Preheat oven to 350 degrees. Spray a muffin tin with cooking spray or line with paper cups.
2. Whisk together all the ingredients above very well
3. Pour into the tin.
4. Bake for 15-20 minutes (I have a fan option in my oven. Perfect for crisping up the muffins)
5. Remove from oven and enjoy with a green side salad.
6. Bon appetite!
And would we love to hear your comments, feedback and suggestions below if you have tried this recipe at home. I usually double the recipe from 6 muffins to 12 muffins and your fridge is stocked for a good week!
---