Monthly Archives:

May 2017
ramadan (re)boot camp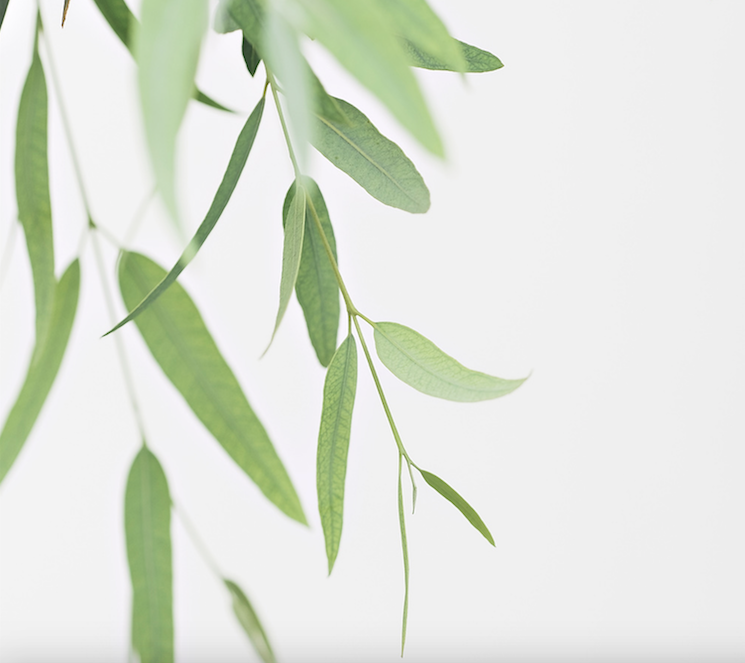 Ramadan shouldn't be an excuse to abandon your fitness regimen. Whether you are a seasoned fitness enthusiast or have just recently started classes with us, fasting during Ramadan does not need to be the end of your exercise regimen until after Eid!
We want to help you prepare your body for Ramadan and keep your motivation up throughout the entire month! So we have tailor-made a month-long  program of diverse group fitness classes ( you could say our own version of the mainstream "Bootcamps"), with the purpose of promoting the sustainable practice of physical activities during the month of Ramadan and beyond. This program is fun, accessible and fasting-friendly. Join us to prepare your body to stay active while fasting in a safe and supportive environment.
The program outline:
– BCA test (body composition analysis) at the beginning of the program to track progress
– 'Strategic Eating' A talk by Ryan Penny on how to consciously eat in Ramadan to maintain good health, high energy levels, and even lose weight.
– Eight Super Circuit classes (High Intensity & Fat burning)
– Four Body Weight classes (Moderate Intensity & Muscle sculpting)
– Four Pilates classes (Stretch & Recovery)
– BCA test (body composition analysis) at the end of the program to track progress
– 20% discount on fresh cold-pressed juices.
The all inclusive cost of the Ramadan Package is: 1500AED
Note:
The classes mentioned above will be conducted in different times than current Hundred Wellness existing classes.
Classes will be exclusively LADIES ONLY. The program will start on May 8th and run through until June 8th, with the classes being offered on Mondays, Tuesdays, Wednesdays and Thursdays at 4:30pm.
All classes support a maximum of 8 people. Classes must be booked at least 4 hours in advance.
To learn more or to book your spot, email or call us on +9714 344 7333
---
free weight loss Q&A session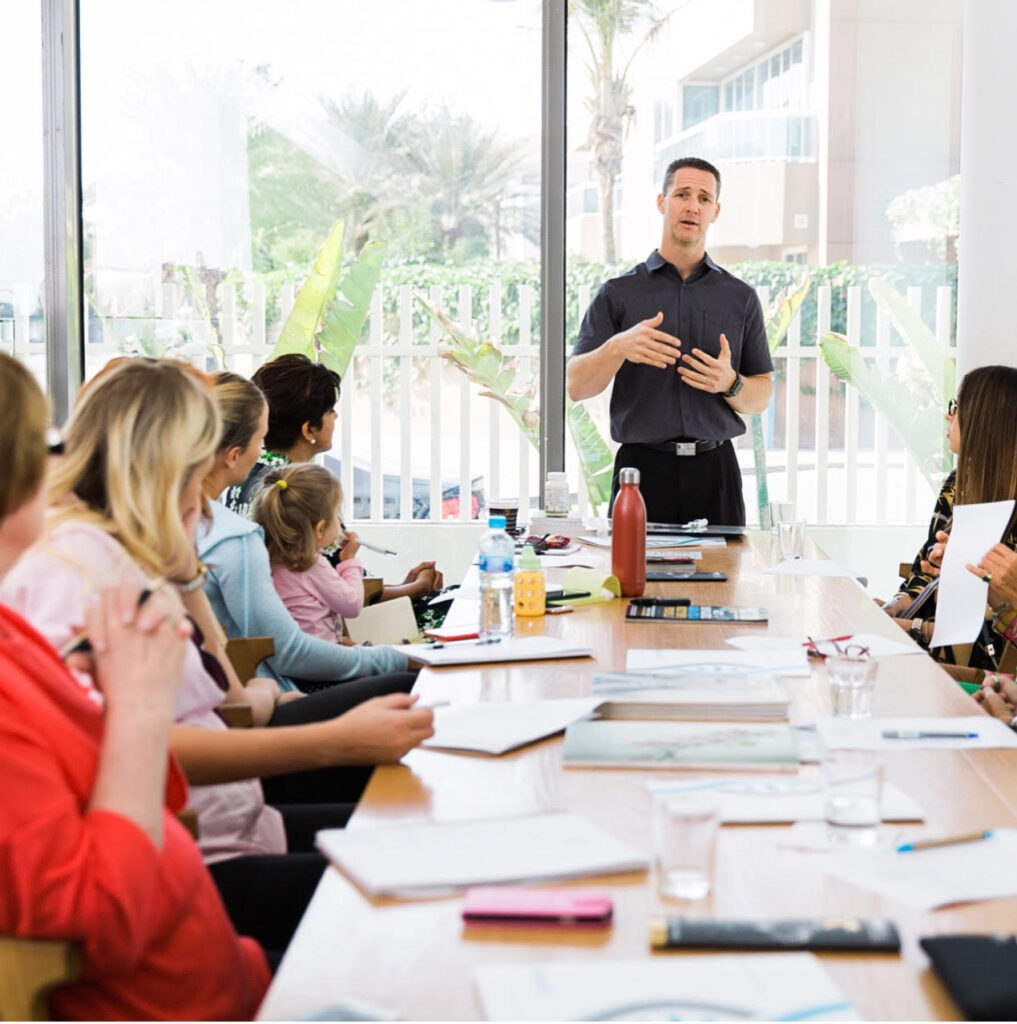 Do you feel like you have "tried everything" when it comes to losing weight and keeping it off? Are you frustrated by your lack of energy while you are trying to lose weight? And do you have a ton of questions when it comes to weight loss?  Then we invite you to join us for a complimentary supportive group discussion led by our in-house nutrition and weight loss expert Ryan Penny from The Wellness Brothers, to have all your questions answered.
Anyone looking for support and solid answers in regards to diets, nutrition, weight loss and everything in between is invited to join! So if you are overwhelmed by all the nutrition advice you hear, and feel like you have tried everything and you still don't fit into your "skinny" jeans, then this session is for you! Sign up to join us (and tell your friends too!) and see what our group weight loss support sessions can offer you.
When: Monday the 27th of March 2017 at 10:30am sharp.
Where: At The Hundred Wellness Centre Cafe.
Limited spots available, so email or call us on +9714 3447333 to book your space.
p.s. If you can't make it but have lots of questions, call or email us to schedule a private weight-loss consultation with Ryan and get all the answers you have been looking for!
---
sustainable weight loss: "only two words really matter"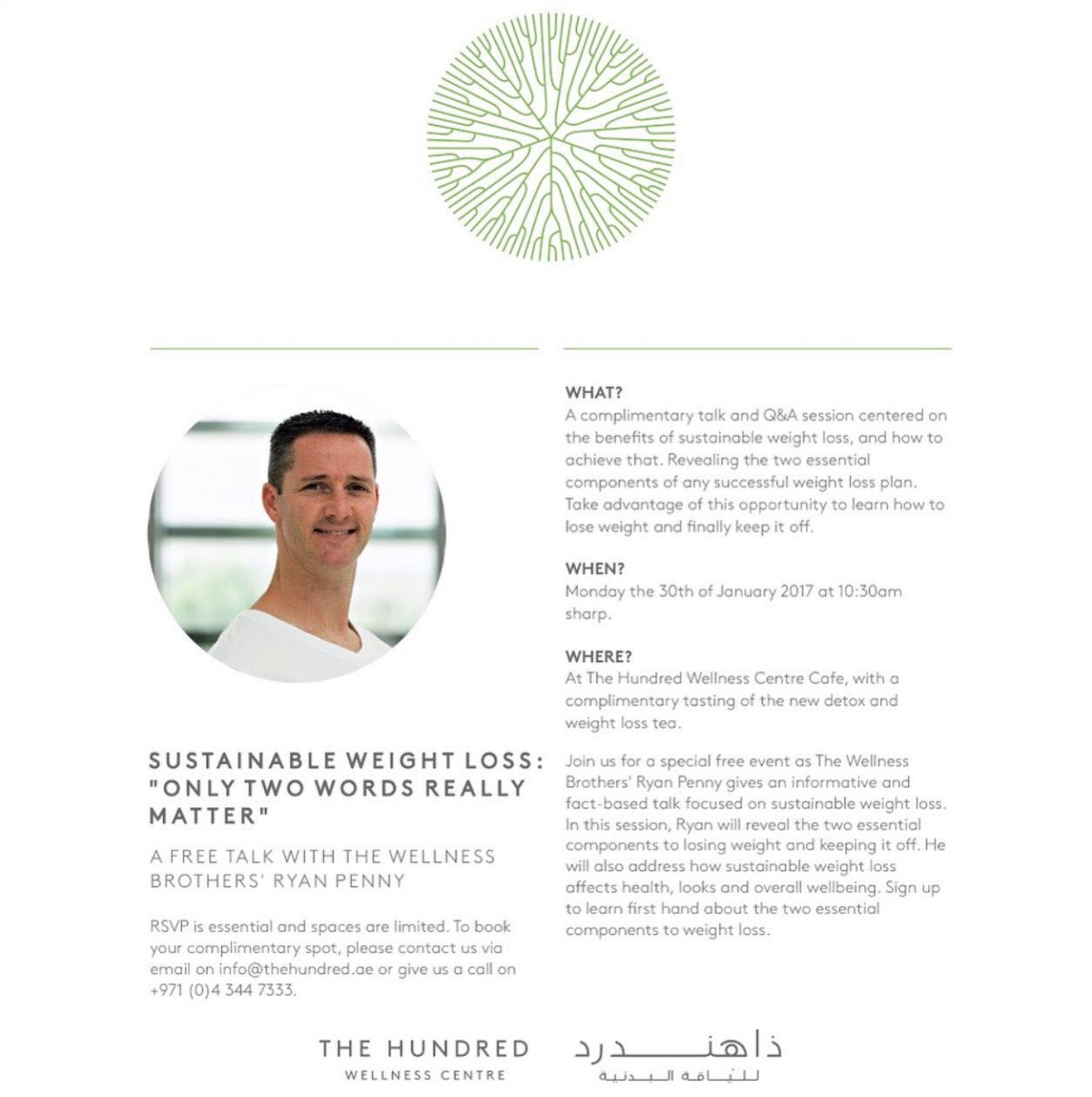 You are invited to join us for a complimentary talk and Q&A session focused on the benefits of sustainable weight loss, and how to achieve them. Discover the two essential components of any successful weight loss plan and take advantage of this opportunity to learn how to lose weight and finally keep it off.
On Monday 30th of January at 10:30am, Ryan Penny will host an insightful free talk centered on sustainable weight loss and it's benefits at The Hundred Wellness Cafe.  Enjoy a complimentary cup of our new detox and weight loss tea whilst Ryan reveals the two essential components to losing weight and keeping it off once and for all! In this session we will also learn what the plan involves, and how when it is done right, losing weight can postively affect your health, and overall wellbeing. Don't miss it!
RSVP is essential and spaces are limited. To book your complimentary spot, please contact us via email on info@thehundred.ae or give us a call on +971 (0)4 344 7333
We look forward to welcoming you on the 30th.
Find out more about The Wellness Brothers' services at The Hundred Wellness Centre here and here.
---
hitting the reset button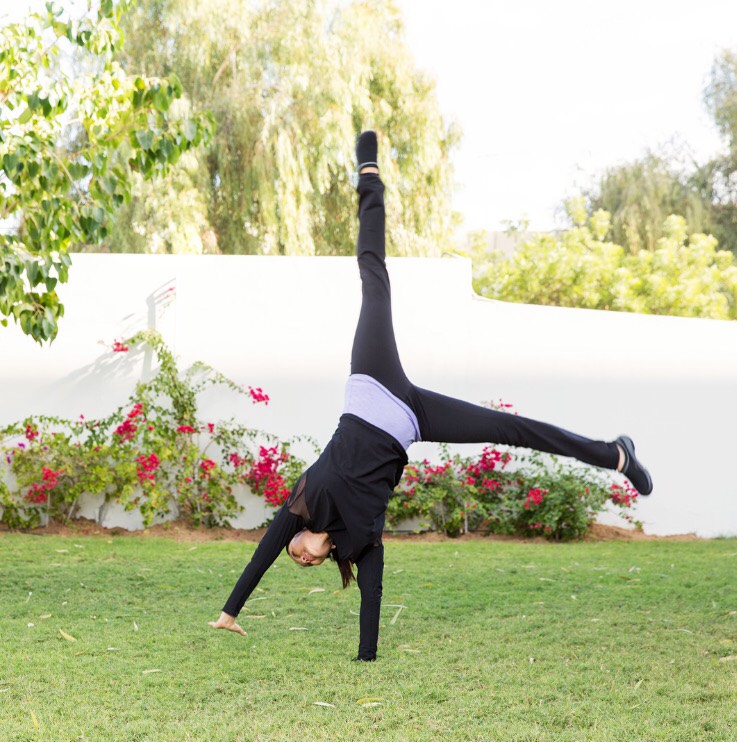 It's a brand new year, and after days, (or weeks) of indulging in sugar and rich foods, combined with a lack of exercise or time to take care of yourself, it's no surprise that you are possibly feeling a bit out of sorts. To help you get back on track we asked our team members to give us some pointers to help jump start the process of getting you to your best health and vitality in the new year.
To start off, the best first step, would be to give your body an opportunity to heal it's digestive tract by taking a break from all forms of sugar, dairy, and gluten for 30 days. This may sound hard, but it is so worth it and we can help! Eliminating these foods actually is the cornerstone of the very successful 'Down-Size-Me Diet Plan' which was developed by Lifestyle Consultant/Weight Loss expert Ryan Penny, and his brother our in house Homotoxicologist and Homeopathic Practitioner Dr Sean –  The Wellness Brothers. This plan is offered at The Hundred Wellness Centre, and the brothers are on hand to personally support you in achieving your weight loss and wellness goals, while creating programs that fit comfortably into your lifestyle. And with the plan being built on a foundation of solid science and common-sense it ensures that cutting calories and improving health, does not involve a total restriction of the foods you enjoy!
Next we would encourage you to move your body in mindful ways – as much as we are told by mainstream media that the new year is the best time to start a hardcore exercise program, it's really not! While getting back on track, your body will be much happier doing more mindful exercises like Pilates, Yoga, Gyrotonic Expansion, or even our Super Circuit Classes – all of which we offer in many ability levels at the centre! If you are not sure where to start, give us a call or visit us and we can help guide you to the program that best suits your needs.
While the idea of a new year brings on the excitement of being able to start fresh, it also comes the pressure of keeping up with everything that comes your way. Our advice? Slow down – Prioritize. Have less on your schedule. Move your body. Go to bed early. Read a book. And allow yourself the space and time to reconnect to what nourishes your mind, body and soul. 2017 is waiting, and every step you take to move forward is essential, so get in touch to find out how we can help you make this your best year yet!
---