About Us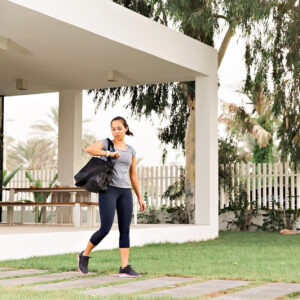 The story
A decade ago, The Hundred Wellness Centre's founder – local Emirati Asma Hilal Lootah – discovered and fell in love with Pilates. Her discovery changed her life so dramatically, and in such a beautiful way, that she felt compelled to share her experiences and newly found passion with others. Asma decided to make it her mission to bring her beloved Pilates to her home country, and became the first UAE female national to open a homegrown Pilates studio.
Named after one of the most basic Pilates exercises that Asma first learnt – the Hundred – our concept began life in Dubai as a modest studio in Healthcare City. Seven years after opening its doors for the first time, the increasing popularity of The Hundred meant that Asma needed to search for a bigger location, and The Hundred Wellness Centre in Jumeirah was borne.
A complete lifestyle destination, The Hundred is situated within a tranquil villa in the heart of Dubai and offers all of the elements of wellness under one roof including Pilates, Yoga, Physiotherapy, holistic treatments, a cafe and so much more.
There are many things that make The Hundred Wellness Centre unique, but some of our clients favourites include:
Our group classes are incredibly small. At any one time there are a maximum of

8

in a Pilates class and

8

in a yoga class.

Our center is REPS certified.

If you are a covered female you can enjoy a ladies-only environment at certain times and days (contact us for details).

We are local, homegrown, and Emirati owned.
Awards
In 2010, Asma was awarded with the prestigious Sheikh Mohammed Bin Rashed Award for Young Business Leaders, winning the Best Business in Healthcare and personally awarded the trophy by Dubai Crown Prince, Sheikh Rashid Al Maktoum.
A year later, in 2011, The Hundred was ranked number 45 in Dubai's top 100 small and medium enterprises, followed by a 'Best Health & Fitness Facility' award by the Sports Industry Awards in March 2013, and more recently The Hundred won an award for the Best Small Project in the GCC states during the 32nd session of the council of ministries of labour hosted in Qatar at the end of 2015.