healthy, delicious, gluten-free pizza with a rustic cauliflower crust!
April 8, 2013
Low Carb, Gluten-Free, Healthy and tastes just like the real deal. Here is a healthy Pizza version replacing dough with cauliflower! Prepared by Asma Hilal Lootah – founder of The Hundred Pilates Studio in Dubai and inspired by our Gyrotonic teacher Sara Davis.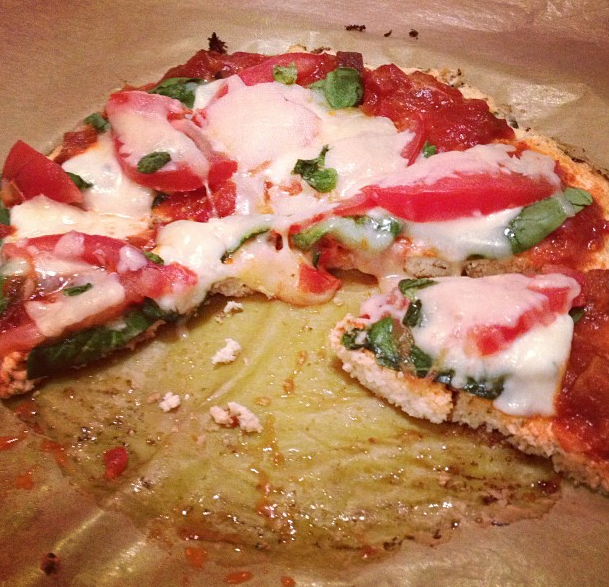 Ingredients
½ head cauliflower (about 2 cups)
1 clove garlic, minced
1 cup part-skim shredded mozzarella cheese OR goat cheese
1 egg, beaten (or two egg whites for a lower calorie option)
1 teaspoon basil
1 teaspoon oregano
Instructions
Pre-heat oven to 400° F.
Prep a cookie sheet by greasing it. It will stick if you don't grease it properly.
Remove the stems and leaves from your cauliflower and chop the florets into chunks. Add to a food processor and pulse just until the texture is similar to rice. If you don't have a food processor or Vitamix, you can grate the cauliflower with a cheese grater or chop it.
Sauté cauliflower "rice" in a non-stick skillet over medium heat and cook until translucent, approximately 6-8 minutes. Make sure to drain it from the water and if you wish use a cheese cloth to squeeze the liquid as it tends to be soggy in the middle.
In a bowl combine the cooked cauliflower with all remaining ingredients.
Spread the dough out evenly over greased sheet – about ¼ to ? of an inch thick. The pizza should be about 9-10 inches in diameter.
Bake for 25-30 minutes or until the crust is golden, crispy on the edges and cooked through the middle.
Remove the crust from the oven.
Top with pizza sauce and toppings. Be careful not to add too many heavy toppings as you don't want to weigh down the crust and get soggy in the middle.
Broil the pizza for 5 minutes, or until the toppings are hot and the cheese is melted. Allow the pizza to cool for 2-3 minutes then cut and serve immediately.
Give it a try – let us know what you think!!
---