Monthly Archives:

July 2014
a healthy take on a traditional Emirati dessert
These days everyone is talking about fitness, health, and overall wellness. People are now gaining an awareness of what they put in their bodies. But that doesn't mean we can't enjoy some of our traditional and favorite comfort foods, that with a few adjustments can even be categorized as healthy! Proving that it is not about being on a "diet", but it is about adopting a healthy and sustainable lifestyle, today we are sharing our take on the traditional Emirati Dessert "Falooda".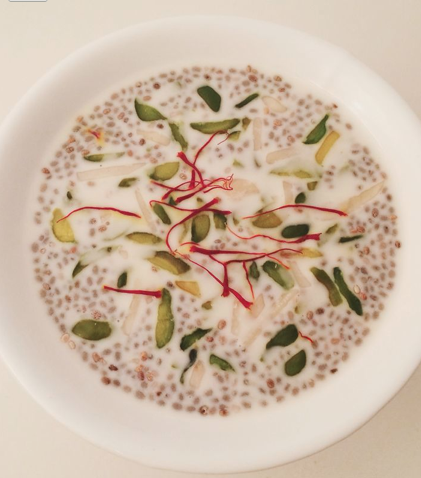 Healthy Falooda Recipe
Saffron and Coconut Milk Falooda
Ingredients:
1/2 Cup homemade almond milk
1/2 Cup coconut milk
2 tablespoons Chia seeds (adjust according to desired texture and density)
1 teaspoon rose water
Pinch of Saffron
Sprinkle of Pistachio
*Honey can be added as sweetener if needed.
Mix all the ingredients together and let sit for a few minutes, then stir again as some of the chia seeds will settle at the bottom of the bowl. garnish with the pistachios and honey, and serve. Enjoy!
Healthy Regards,
The Hundred Wellness Center Team
---
have you tried pilates yet?
So you've been hearing all the buzz about Pilates but still not sure what the expect?
Personal Trainer extraordinaire Derryn Brown is being featured in an upcoming issue of a popular fitness magazine talking about different types of workouts, so she decided to give Pilates a try, and this is what she had to say about her experience : I just finished a post pregnancy Pilates photoshoot with Elena from The Hundred Wellness Center and it turned out to be an awesome workout! You have got to get down there and book a session with her, she is amazing! Pilates is not easy and requires a lot of mind body connection.. Elena instructs so well and explains each step so you can actually visualize what you need to do in order to get the right movement. And did I mention how stiff I was the day after??
Healthiest Regards,
The Hundred Wellness Team
---