Monthly Archives:

September 2016
In pictures: The free yoga + meditation class held by Kira Jean at The Hundred Wellness Centre
Last weekend, The Hundred Wellness Centre gardens played host to a special, complimentary yoga + meditation class co-hosted by Kira Jean. The class drew in a diverse crowd – from expert yogis to intrigued novices, and everyone said Namaste to the 24th of September in the most peaceful way possible.
Take a closer look at the special event below and to make sure you are the first to know about all of our events and news in the future add your email to our exclusive database, at the bottom of the homepage here. See you at the next event!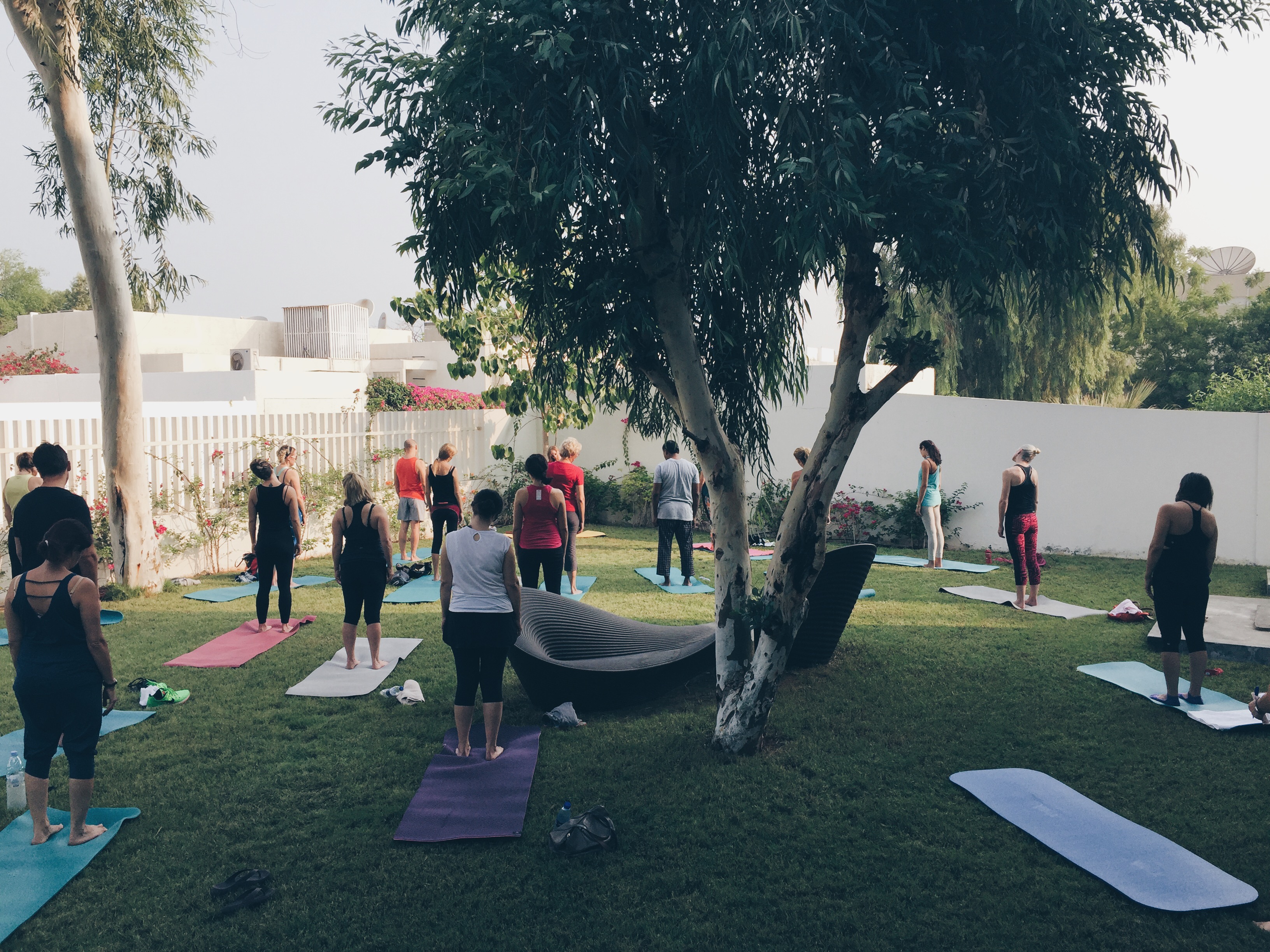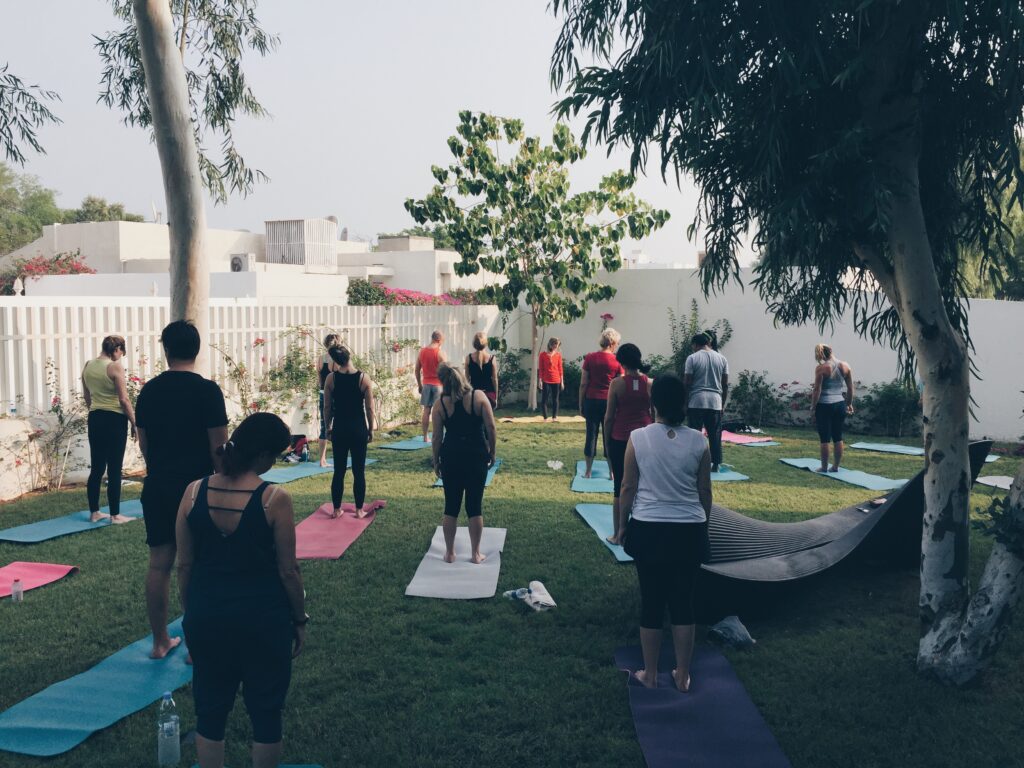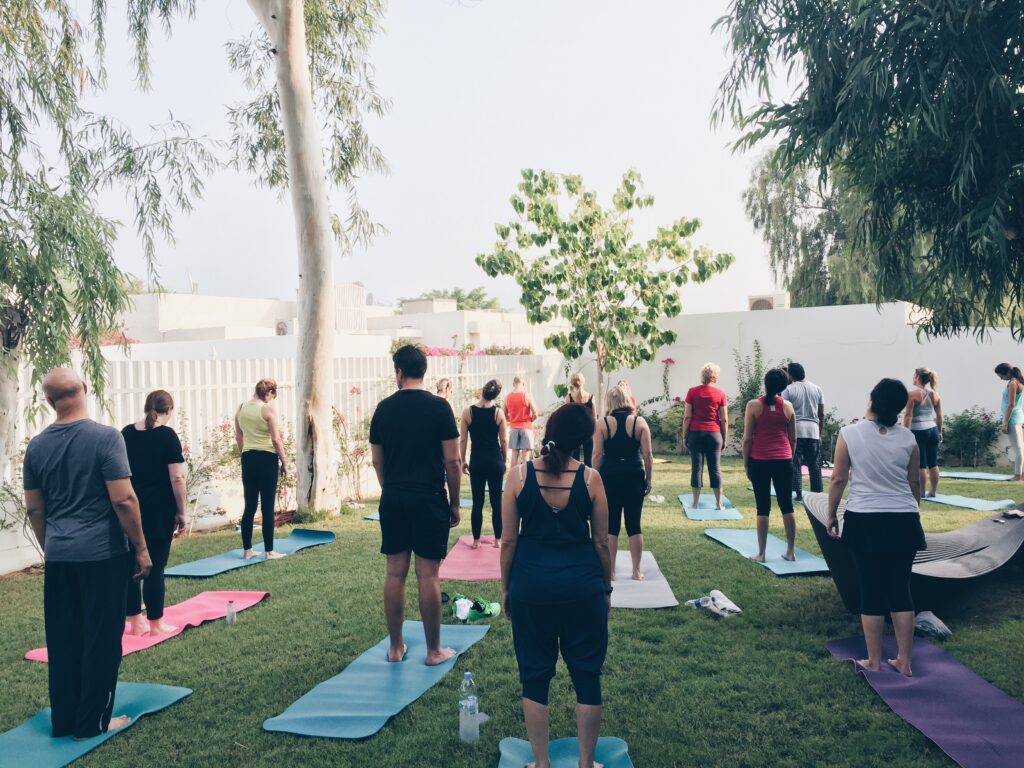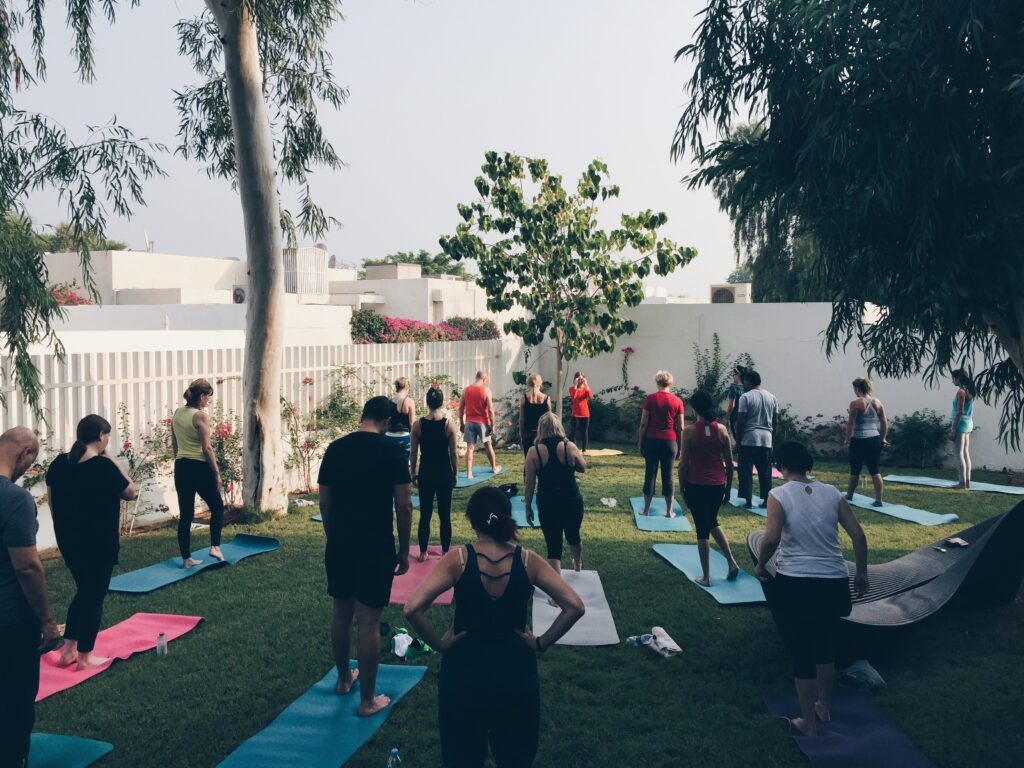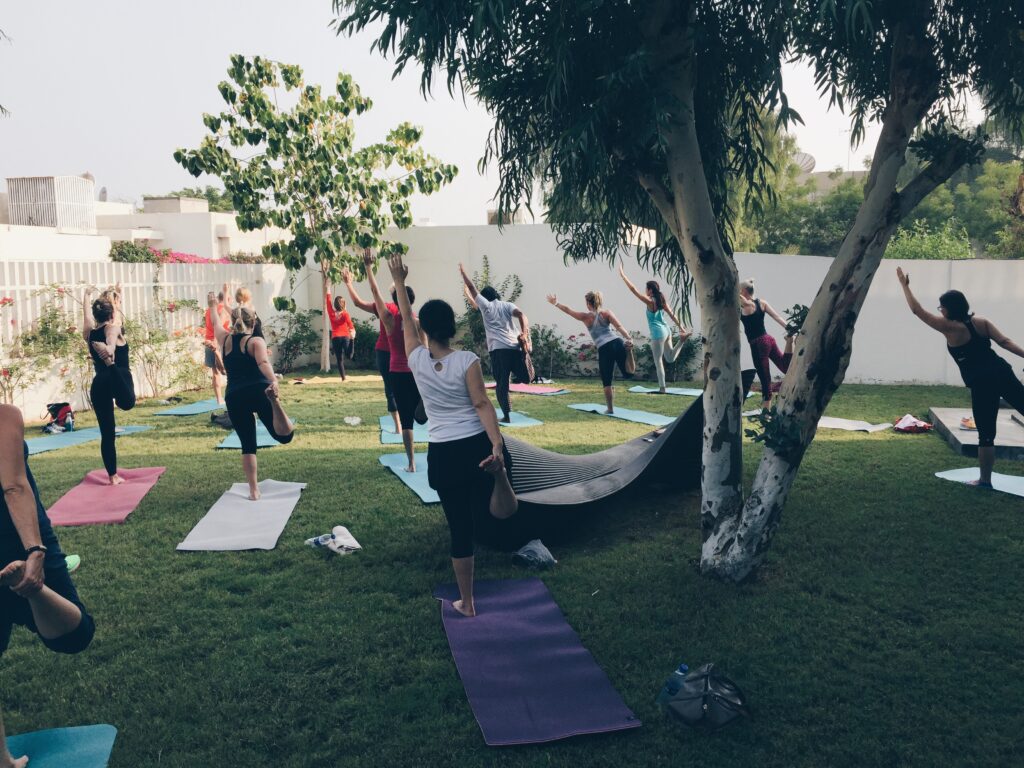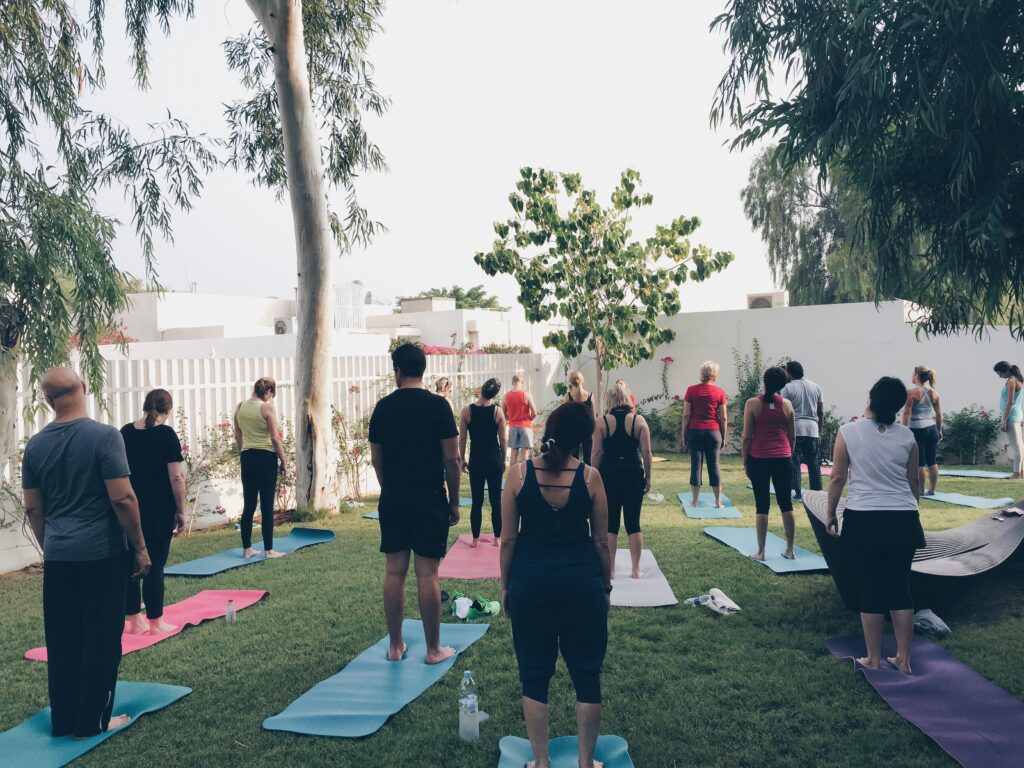 To join one of The Hundred Wellness Centre's scheduled yoga classes, find out more here
---
8 Instagram accounts to follow for healthy eating inspiration
In this blog post we bring eight of the best, motivational Instagram accounts to double tap for healthy eating inspo. It can be hard to stay on track with a healthy regime, especially in Dubai – where you can pretty much order anything to your door in a matter of minutes (and the majority of what's on offer isn't exactly nutritious). These Instagram accounts will help you stay on track – inspiring you to get in the kitchen and create healthy, nutritious and delicious meals for you and your family. Healthy eating never looked so good…
1//
The stats: 272,000 followers
The scoop: Sarah Britton started blogging over at My New Roots in 2007 after she became incredibly passionate about healthy eating and nutrition. Her Instagram account features gorgeous images of delicious, easy to create dishes. We especially love that she revamps some of our favourite cheat-day meals to make them whole, healthy and guilt-free.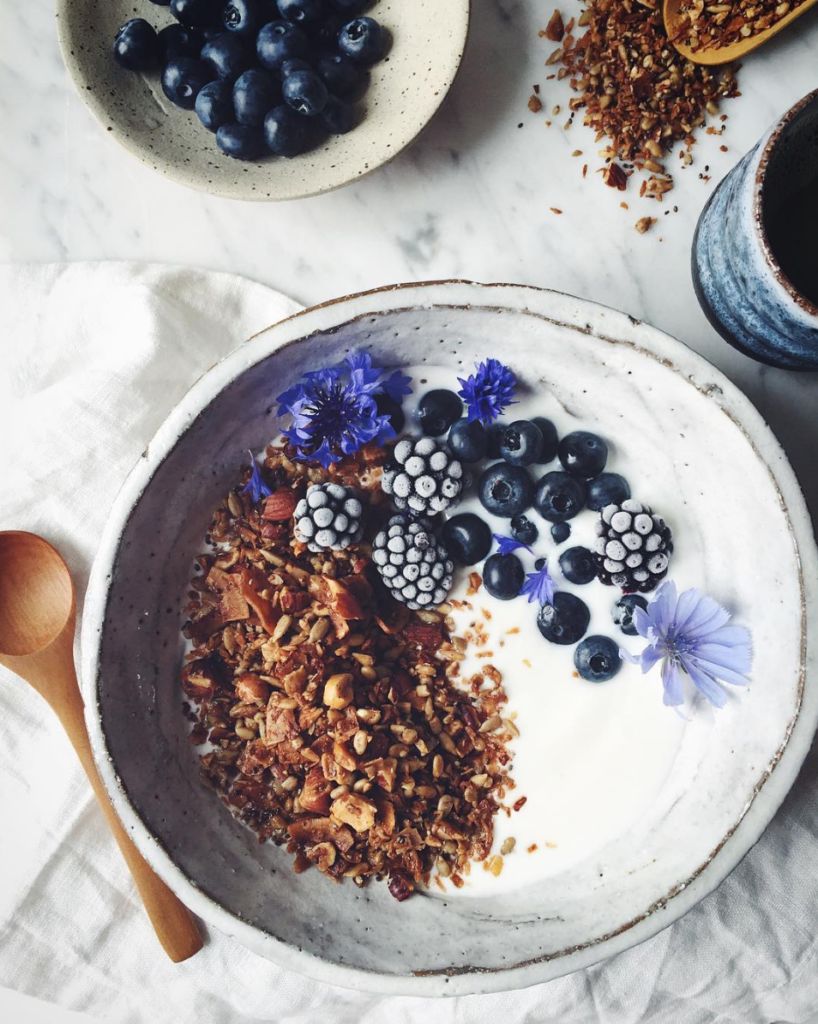 "New blog post! Maple Cinnamon Grain-free Granola that is unreasonably easy and delicious and addictive and all the things. You're gonna love it! #MNRgrainfreegranola #vegan #glutenfree #healthy #breakfast"
2//
The stats: 7734 followers
The scoop: Noreen is a Rhode Islander living in Dubai. We adore her beautiful, inspiring shots of her cooking, travels and cozy corners. The creator of the Noni's Place blog, UAE-based Noreen regularly shares gorgeous recipes for tempting but healthy dishes such as vegan beetroot carpaccio with mint vinaigrette and bright, nutritious poke bowls.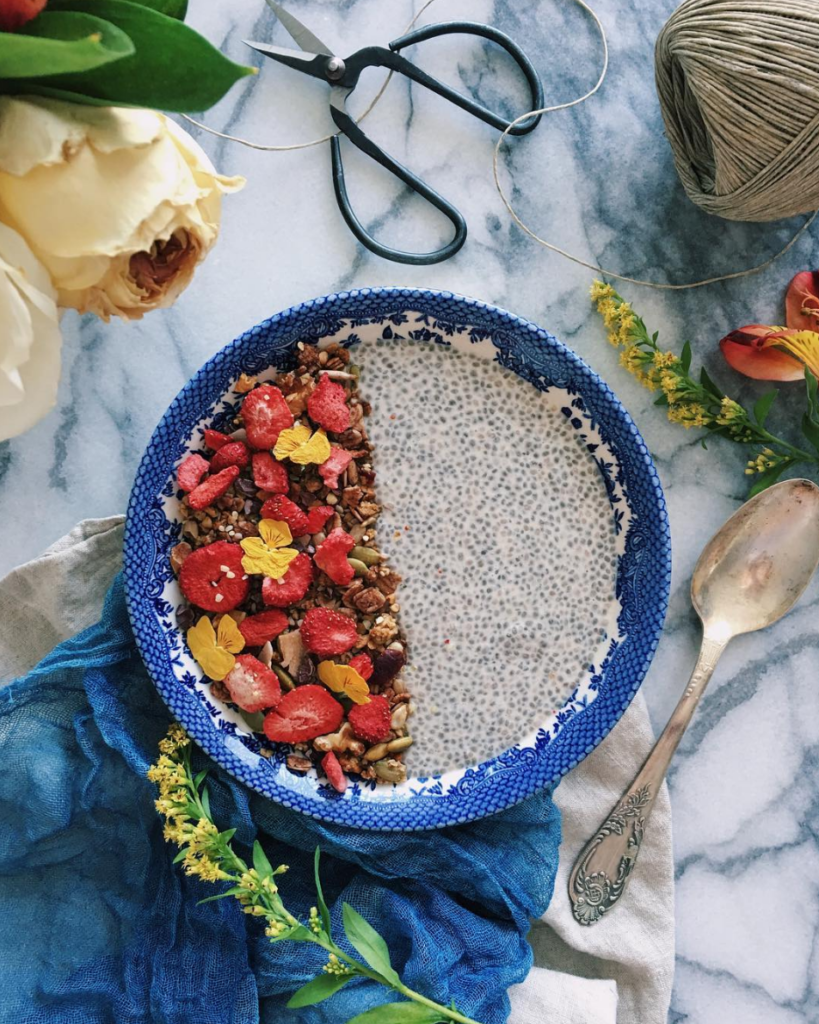 "So I know chia pudding is totally passé now, I still made one anyway because sometimes you just have a craving. I was still hungry so I had two pieces of toast slathered with Quebec goat milk butter (all about balance right?), if you follow me on Snapchat you would know I'm obsessed with it. I wake up every morning just to have that butter!…"
3//
The stats: 320,000 followers
The scoop: David Frenkiel mans this Instagram handle – @gkstories – and regularly shares recipes from the coveted Green Kitchen Stories blog, which he created with his partner and baby mama, Luise Vindahl (who also posts over at @luisegreenkitchenstories). As the name suggests, Green Kitchen Stories is all about nutritious, delicious vegetarian fare. The recipes are inspiring and easy to follow and we adore the ways in which these cute couple come up with amazing ideas for making vegetarian food.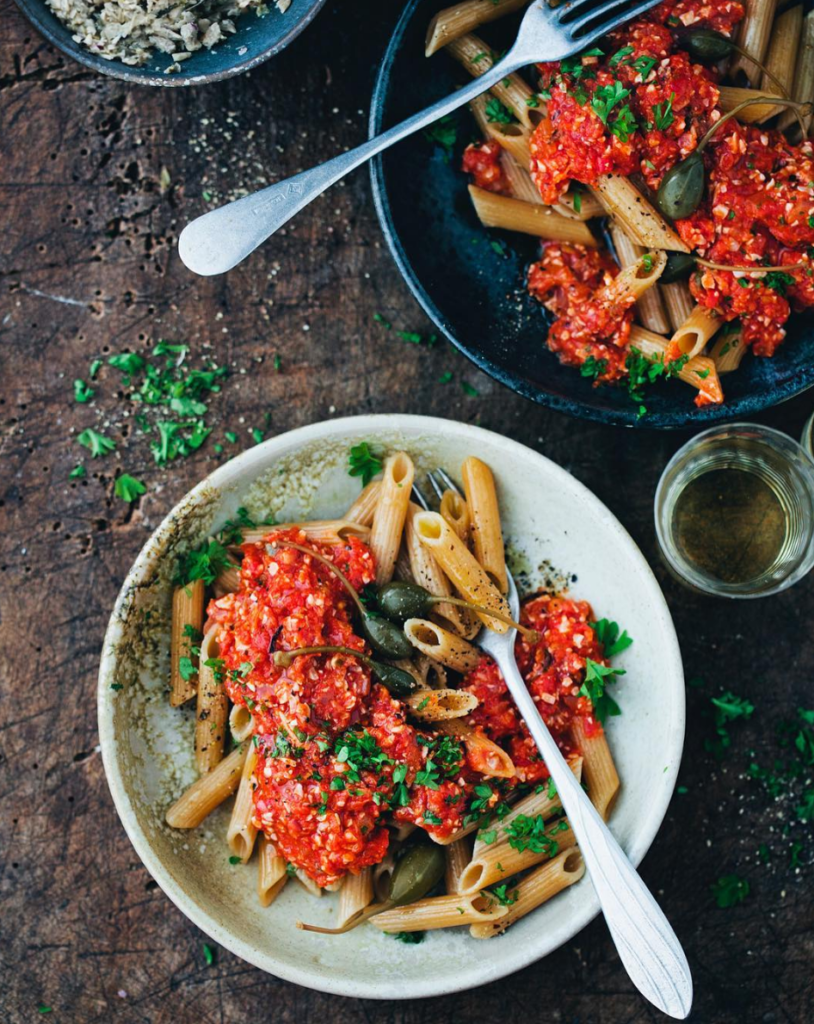 "This simple pasta dish with vegan "tuna" is up on the blog now! So good and well worth checking out if you haven't tried vegan sunflower tuna before."
4//
The stats: 265,000 followers
The scoop: The Hemsley + Hemsley sisters – Jasmine + Melissa – are the health food sweethearts of the UK. Their best selling cookbooks 'The Art of Eating Well' and 'Good and Simple' are well worth your attention, and the pretty duo regularly share tasty, nutritious recipes via their website. (And next time you are in London you should definitely check out their new cafe at Selfridges. Yum.)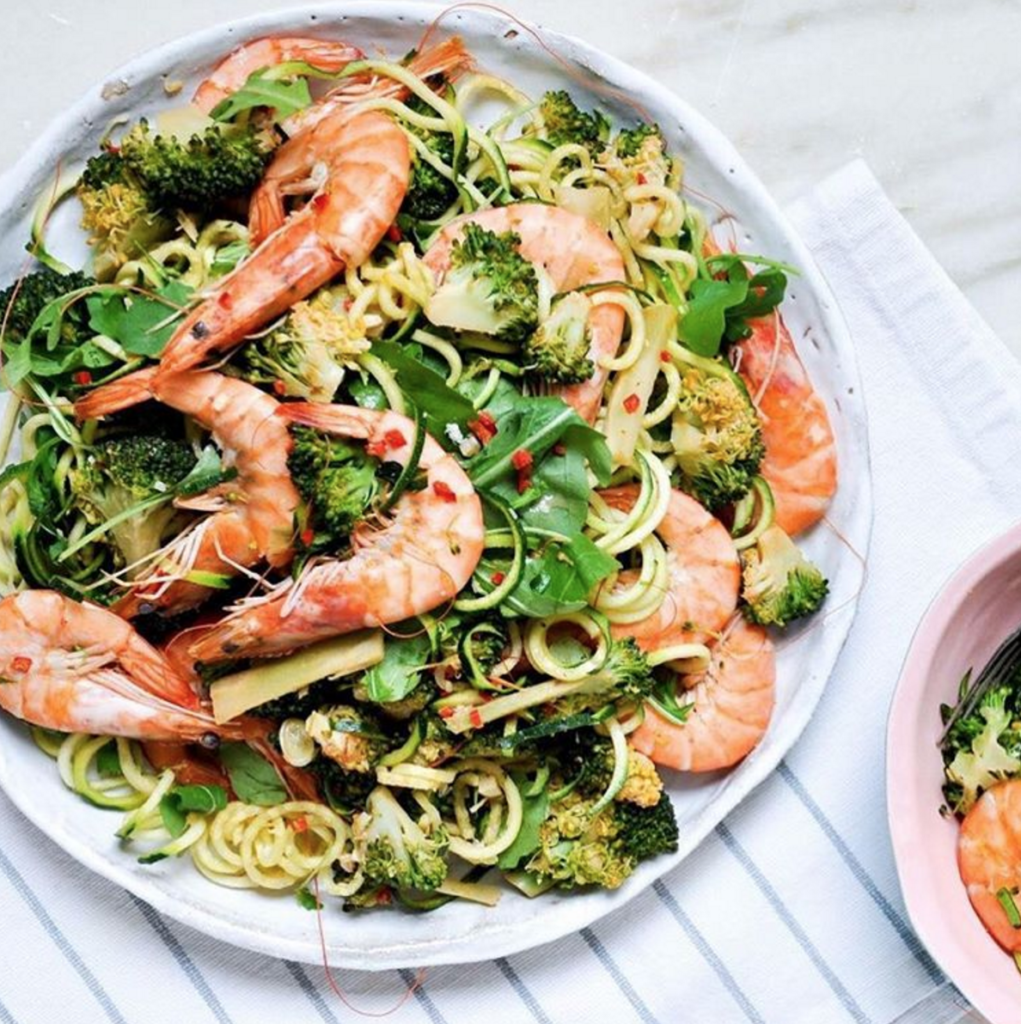 "Lemony Chilli Prawn #Courgetti quick and easy. Tasty hot or cold. Recipe is on page 180 of #GoodAndSimple. Look out for a #HowToSpiralize video coming to our YouTube channel this weekend."
5//
The stats: 54,100 followers
The scoop: Aussie Jessica Cox is an accredited practicing nutritional practitioner with a Bachelor of Health Science (Nutrition) and just under ten years of clinical experience. We love her no-nonsense healthy eating recipes, which are perfect for anyone with food intolerances and her handy guides for ultimate wellness.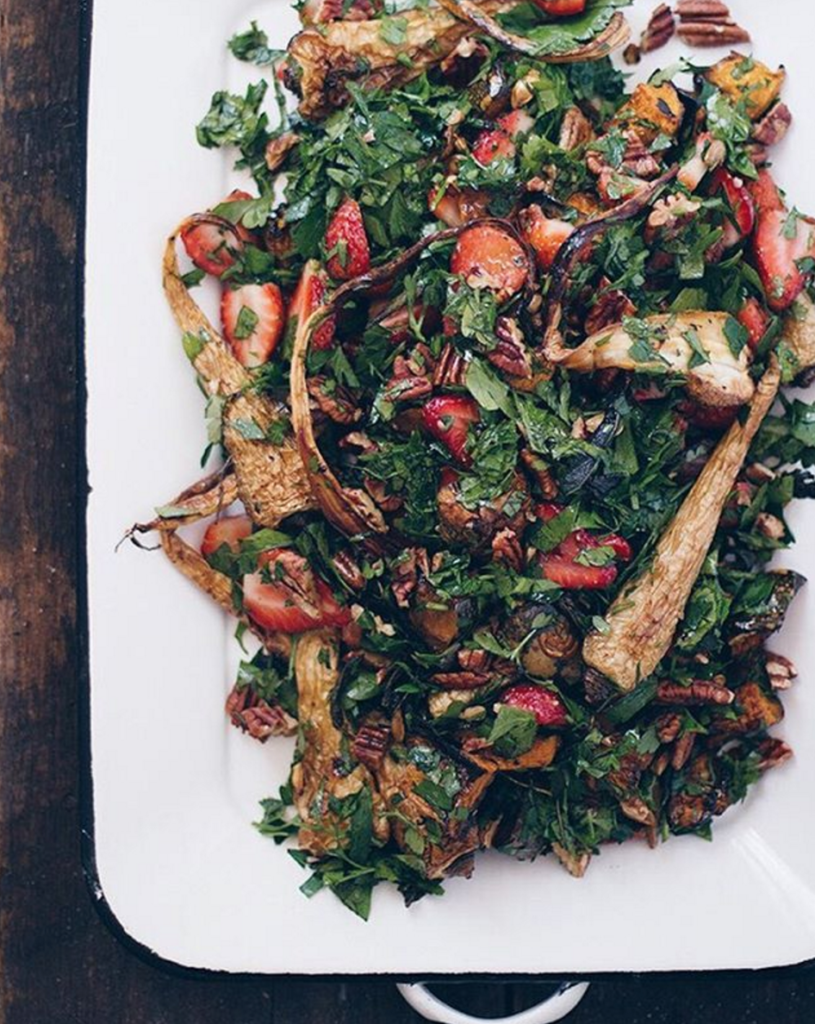 "A seasonal favourite coming to the JCN website tomoz my friends! Honey Roasted Pumpkin & Parsnips with Strawberries – subscribe on the blog to get the recipe."
6//
The stats: 103,000 followers
The scoop: Nina Olsson is a talented foodie, art director and photographer. She blogs delicious and inspiring plant-based recipes on her website – Nourish Atelier – and she has a cook book coming out in January 2017 called 'Bowls of Goodness' (available for pre-order on Amazon now). We love the look of this Butternut Squash and Kale Lasagne creation below… Yum.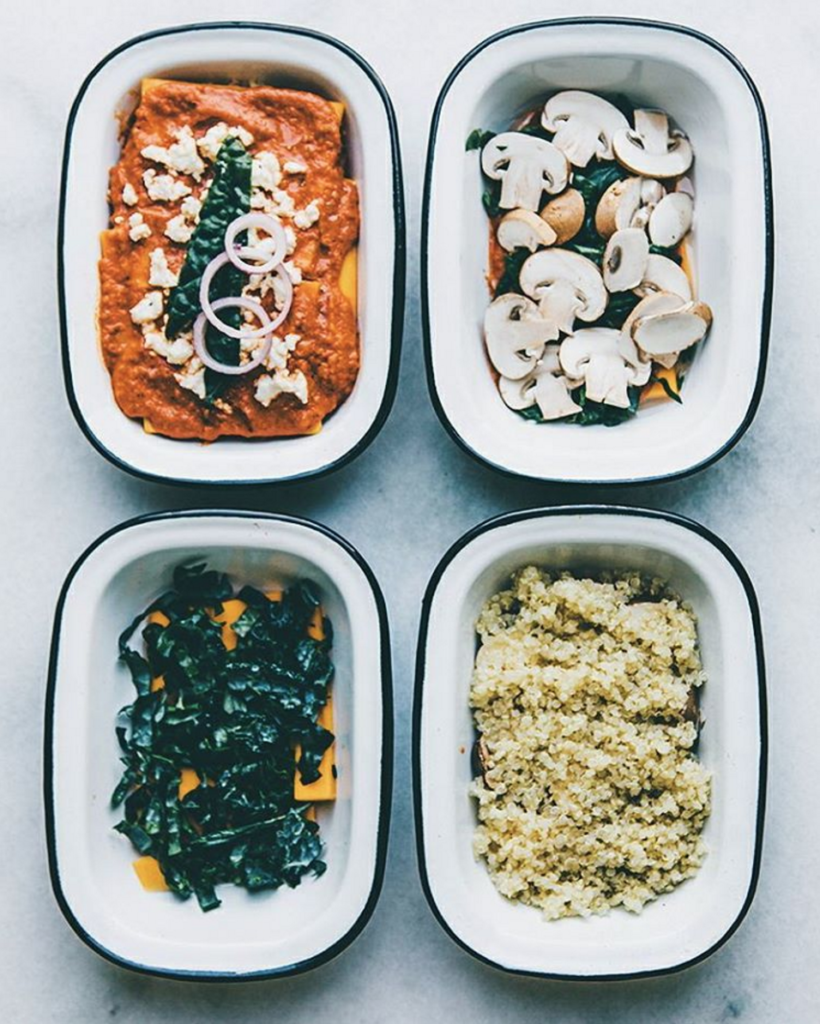 "New recipe on the blog; Butternut Squash and Kale Lasagne (butternut squash makes dreamy good lasagne sheets). Have you tried alternative versions of classic lasagne? What do you layer?"
7//
The stats: 134,000 followers
The scoop: Canadian Laura Wright is the foodie behind the popular recipe blog – The First Mess. Wright shares a variety of easy-to-make plant-based dishes and is also set to release her first cook book in March 2017. The name 'The First Mess' was inspired by M.F.K. Fisher's 1949 book An Alphabet for Gourmets, where Fisher calls the arrival of "the first run (or mess) of peas" in early spring as "the day with stars on it."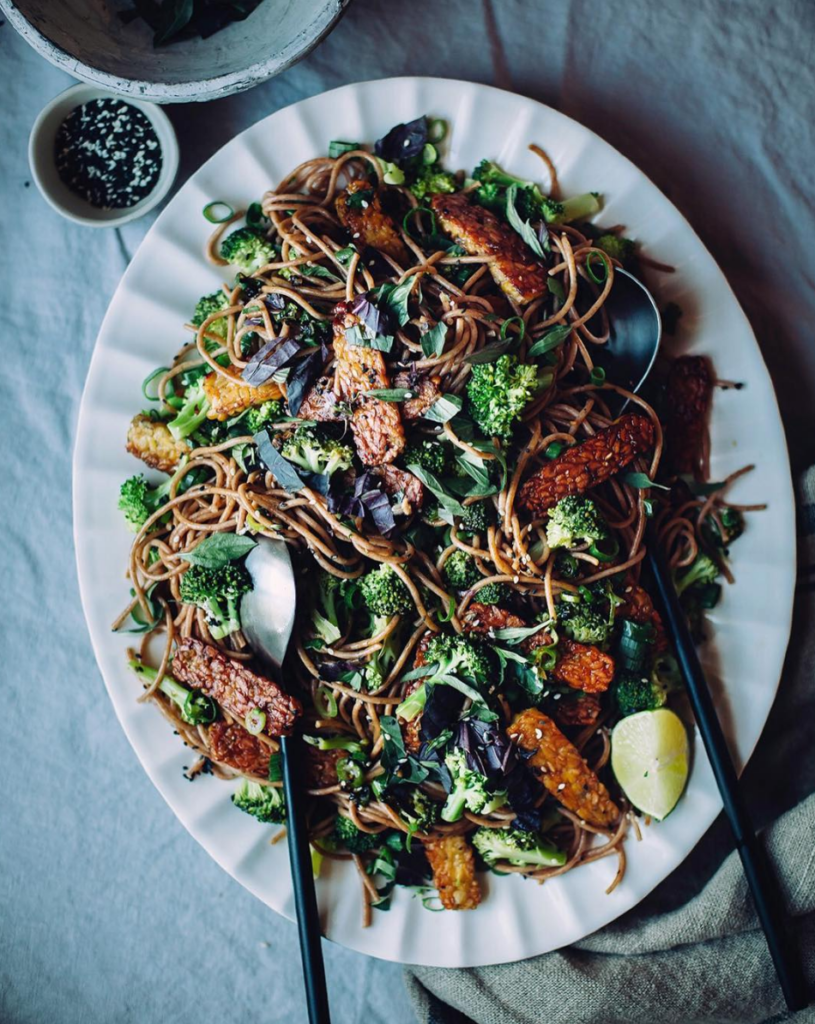 "Garlic sesame noodles with broccoli, basil, and crispy tempeh. Ready in 25 minutes and on the blog right now"
8//
The stats: 232,000 followers
The scoop: Melbourne vegan Sam's Instagram handle is the ultimate healthy dessert inspiration stop. The So Beautifully Raw founder creates the most gorgeous-looking and yummy tasting sweet treats, using plant-based, nutritious ingredients. Unfortunately these gems are only available in Australia at present, however, Sam does share some awesome recipes on her website from time to time. Check it out.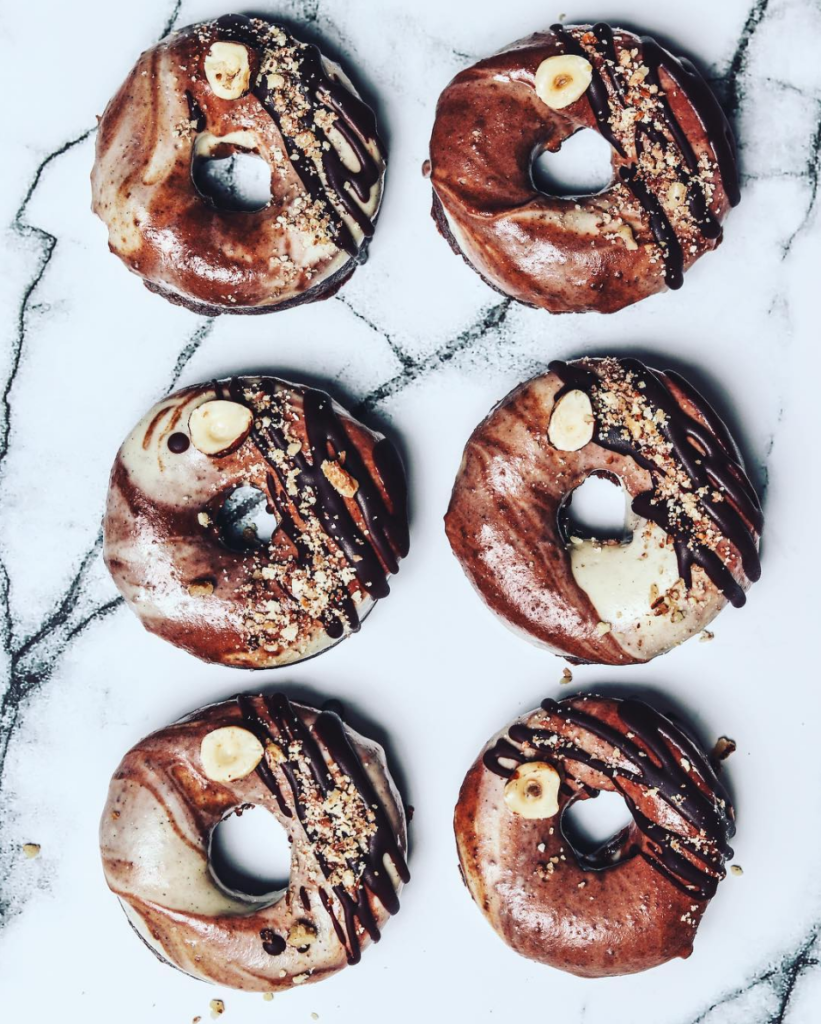 "Ferrero Rocher Donuts! Raw, vegan and gluten-free"
---
Special Free Event: Yoga + Meditation with Kira Jean at The Hundred Wellness Centre this September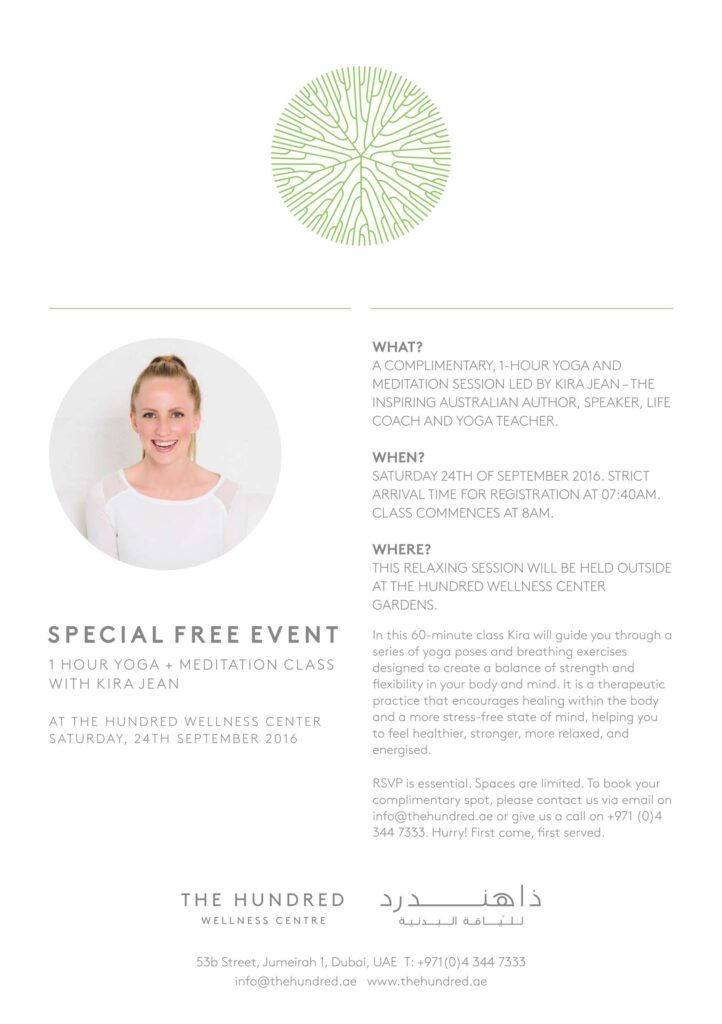 You are invited to join us for a special free event this month as we host a complimentary, 1 hour yoga and meditation class with the inspiring author, speaker, life coach and yoga teacher Kira Jean.
On Saturday the 24th of September at 8am, The Hundred Wellness Center gardens will play host to a 60-minute session in which Kira will guide you through a series of yoga poses and breathing exercises designed to create a balance of strength and flexibility in your body and mind. The class will encourage healing within the body and a more stress-free state of mind, helping you to feel healthier, stronger, more relaxed, and energised.
RSVP is essential and spaces are limited. To book your complimentary spot, please contact us via email on info@thehundred.ae or give us a call on +971 (0)4 344 7333
We look forward to welcoming you on the 24th!
Visit the event Facebook page here.
---