Monthly Archives:

October 2016
Warning: This will change your life | DNA testing at The Hundred Wellness Centre Dubai
Here at The Hundred Wellness Centre we offer a variety of services to help you on your path to optimum wellbeing. Including classical Pilates, Super Circuit classes, physiotherapy, yoga – but did you know that we also offer some of the very best, bespoke wellness diagnostic tests that are at the forefront of technology right now? DNA testing is without a doubt one of the most powerful tools we use…
So what's it all about? Well if you are thinking "I've done allergy tests" or "My GP did my blood work" – think again… DNA testing is in another league. And here's why: Your DNA results will never ever change. DNA testing maps out your genetic code. Which never, ever changes. So you only have to do the DNA test once.
And why is it so crucial? Well, when your parents "made" you, they each gave you some of their DNA. Your DNA is completely unique to theirs. You have some from your father and some from your mother. Sure, if your parents have a certain health problem it could be possible that you are more at risk for those concerns. But that's not a definite. You could be completely clear of their issues and actually have a medium/high risk for something completely different…
But let's be frank here: DNA testing is not scary. It's not something you need to dread or fob off with "well if it's going to happen, I'd rather not know…" The tests simply highlight your genetic code and explain whether those unique combinations are benefitting your health or if they run the risk of harming it. We offer four different, unique DNA tests: health, sport, estrogen, and diet. Over the next few weeks we will be highlighting these through our resident, in-house expert, homeopathic Doctor, Dr. Sean and Holly Hollywould – the Dubai-based creative and lifestyle blogger who will be sharing her journey through DNA testing at The Hundred Wellness Centre in Dubai via a series of diaries…
…Stay tuned!
And if you're already intrigued and want to talk to us about having your own DNA tests done, give us a call on 04 344 7333 or drop us an email here.
---
Hooray: Our local organic farmer's market is back
Do you feel that? That's a cool breeze Dubai, and the start of the winter season… And with the winter season comes the return of our weekly organic farmer's market. Hip hip hooray!
In partnership with Integrated Green Resources (IGR), every Saturday from 9am until 1pm The Hundred Wellness Centre is proud to offer you some of the very best local, organic produce at reasonable prices. A variety of UAE-grown fruit and vegetables are available including kale, cucumbers, broccoli, apples, fresh herbs, squash, carrots, cauliflower, chilis, capsicums and so much more.
So what are you waiting for: Pick up your fresh groceries for the week and nourish your body in the very best way possible – with local, organic fruit and veg… See you next Saturday?
The Hundred Wellness Centre Organic Farmer's Market in partnership with IGR runs every Saturday  from 9am until 1pm at The Hundred Wellness Centre – click here for the exact location and contact details.
---
In pictures: The free Super Circuit event hosted at The Hundred Wellness Centre
On Saturday the 15th of October, The Hundred Wellness Centre gardens played host to a small group of morning warriors who all visited our Jumeirah centre to experience a complimentary Super Circuit class with The Hundred's expert trainer Valentina.
Valentina hosted a quick pre-workout chat with the attendees before the workout, allowing everyone to introduce themselves and answer any health or fitness related questions. She then took them through their fun, challenging 45-minute Super Circuit workout.
To find out more about the Super Circuit classes on offer at The Hundred Wellness Centre click here.
Take a closer look at the special event below and to make sure you are the first to know about all of our events and news in the future add your email to our exclusive database, at the bottom of the homepage here. See you at the next event!
---
Special Free Event: An Introduction to The Hundred Wellness Centre's new Super Circuit Class
You are invited to join us for a special free event this month as we host two complimentary, Super Circuit workout classes with a unique healthy lifestyle talk and cold-pressed juices – led by The Hundred Wellness Centre trainer Valentina Cabreira Vieira.
On Saturday the 15th of October at 9am, The Hundred Wellness Center gardens will play host to a 45-minute Super Circuit class – a workout that is centered on the interval training philosophy. After class you will be invited to enjoy a complimentary cold-pressed juice whilst The Hundred's trainer Valentina gives an insightful talk on healthy lifestyle and provides a unique opportunity for you to ask any fitness questions. A second, ladies-only indoor class will follow at 10:30am.
RSVP is essential and spaces are limited. To book your complimentary spot, please contact us via email on info@thehundred.ae or give us a call on +971 (0)4 344 7333 – don't forget to mention which class you would like to put your name down for.
We look forward to welcoming you on the 15th.
Visit the event Facebook page here.
Find out more about The Hundred Wellness Centre's Super Circuit class here.
---
Deepening our roots | We're marking October with a brand new logo
The Hundred Wellness Centre Dubai is delighted to share something exciting with you – the first exclusive look at our new emblem. Discover the inspiration behind our revamped logo, created in collaboration with the talented Imagist London (who also designed the Hemsley + Hemsley logo) here…
Happy October lovely people. We are so excited to share our revamped logo with you today – which marks a new journey for us at The Hundred Wellness Centre Dubai, and the first of many inspiring things to come, Enshallah…
To create our new logo we worked closely with Imagist London who have previously worked with The Hundred's favourite foodie sisters – Hemsley + Hemsley. As many of you will know, the 'Hundred' in our name refers to the classic Pilates move, which is also called the hundred. This movement, first created by Pilates founder Joseph Pilates, focuses on the core of your body. It's a movement that engages every single muscle in your body (like many Pilates exercises), and prepares you for your Pilates class and the day ahead. It's one of the key foundations of the Pilates method – and the reason we named our health and wellness concept after it… As The Hundred Wellness Centre founder, Asma Hilal Lootah explains: "I picked a pilates move name because we started as a pilates studio and my passion for pilates is what kickstarted all of this. I chose 'the hundred' specifically, because it evokes nice memories with the group I used to practice with. We became friends and used to complain when we had to perform 'the hundred' because it's quite challenging – but also with the 100 breaths it's just lovely. We dreaded the effort involved but absolutely loved the achievement and the results."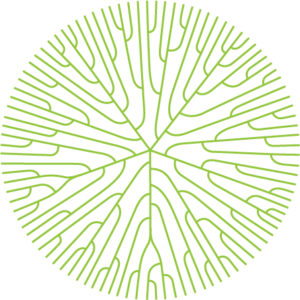 "The Hundred Wellness Centre is a place rooted in its location and if you look at our new emblem, there's a real sense of rooting. Of being at one with nature and all of the different 'shoots' of wellness that you can awaken your body and mind with and explore with us here…"
Imagist London worked closely with us to bring the philosophy of both The Hundred Wellness Centre Dubai and the hundred Pilates movement into – what we hope you will agree – is a beautiful new emblem.
If you look closely, you will see that it looks like the core of a tree. When we created our wellness centre in the heart of Jumeirah 1 in Dubai, we wanted to offer a sanctuary that could function as the core of your healthy lifestyle needs. This is why we worked so hard to find the very best people to provide the very best wellness services for you – including Pilates, super circuit, physiotherapy, Gyrotonic, yoga, homeopathy and natural medicine, and so much more – all under one roof. This is reflected in the new logo, the core is both our centre and the exercise, and really the foundations for your health and wellness journey with us.
"The Hundred Wellness Centre is at the core of your wellness needs. Our new emblem captures that perfectly, and we hope you will love it as much as we do."
Metaphorically, when we think about our little centre in Jumeirah, it is very much a place that is rooted in its location and growing in wisdom and life. The wisdom is provided by our experts and the life is provided by our inspiring clients. And of course with wisdom comes growth. Your growth is our passion, whether it's overcoming an injury with our physiotherapist, improving your strength and core with our Pilates workouts or educating yourself about the very best nutrition you can give your body with our workshops and supplements. Again, if you looks closely, you will see that this growth – which is at the core of our passion – is represented as the branches or lines of the emblem grow in size and direction.
Our new emblem also features 100 little lines or branches (count them!) and 5 roots – or bigger lines – which represents the five breaths in and five breaths out that you do with the hundred Pilates movement. Also, if you look at the negative space surrounding our new emblem, you will see that there is a little leaf, which was a totally organic, happy little accident. We hope you love it as much as we do, and we look forward to sharing more new things later this year… Stay tuned.
Feeling inspired? Find out more about the fitness classes available at The Hundred Wellness Centre Dubai here and start your ultimate health journey…
---