Monthly Archives:

January 2017
Art & Nature: A painting workshop for children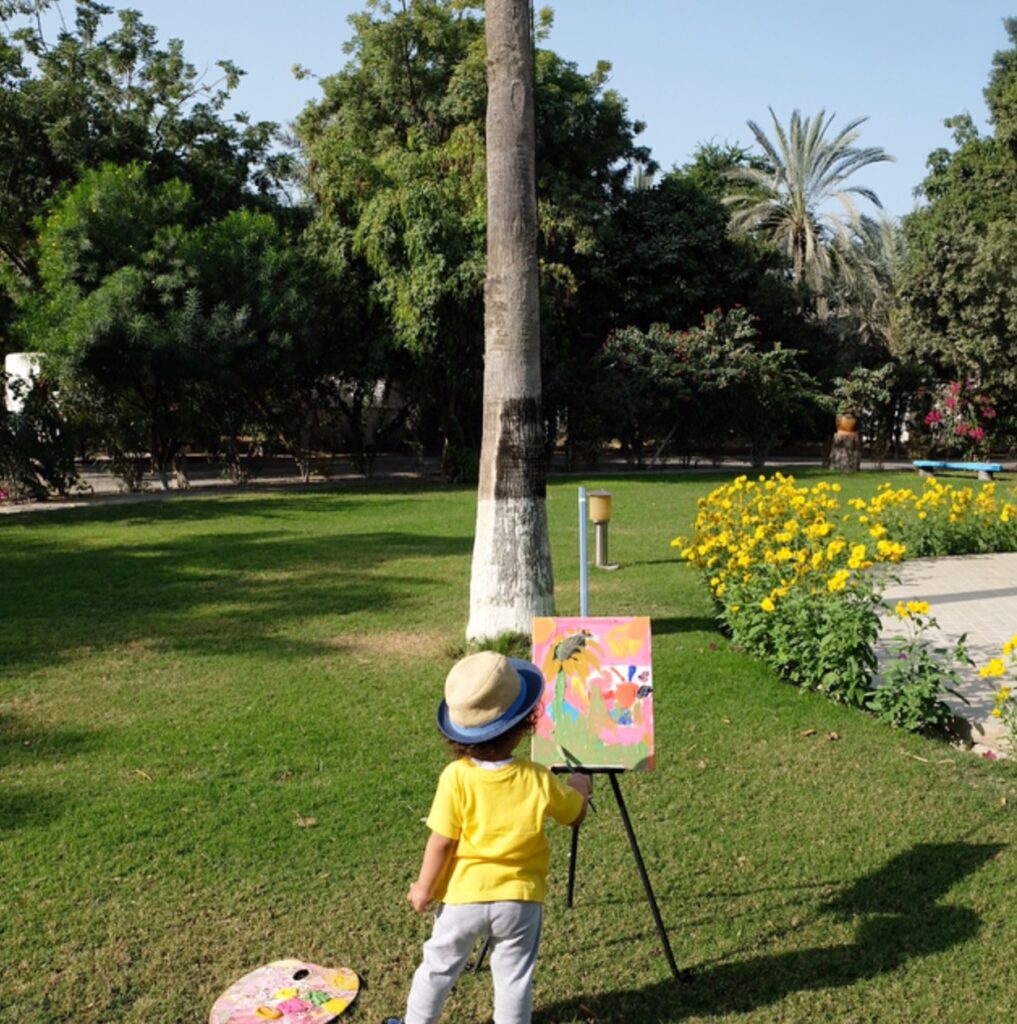 What?
Talented artist Alia Lootah will lead an exciting workshop for children aged 5 to 10 years old that will bring together the creative energy of nature into the little ones own canvases. Learn the basics of color mixing, perspective and live drawing. We will look into the grass, trees and the sky for inspiration! Materials will be provided. Hope to see you there!
When?
Saturday the 18th of February
 2017 at 10:00am – 11:30am
Where?
Cost?
RSVP is essential and spaces are limited. To book your spot, please contact us via email at info@thehundred.ae or give us a call on +971 (0)4 344 7333
---
Medaf Creative Studio + Art Spaces aims to ignite the curiosity and creativity of the innovators of tomorrow; through multi-disciplinary art practices targeted to build and develop the skill set of children and young adults.
Alia Hussain Lootah is a full time artist and alumni of Salama Bin Hamdan Emerging Artist Fellowship. Finding her passion in 2011 in the arts, she hopes to pursue a sustainable future as a multidisciplinary artist. In addition, she donates her time to working with children to help them learn through art. She worked with children in in Kalmiai Center for the hearing impaired, and found a great connection between her and the kids. Lootah is also an avid painter and drawer; brush and color are the ideal media for releasing inner struggles and deep emotions.
---
unplug and reconnect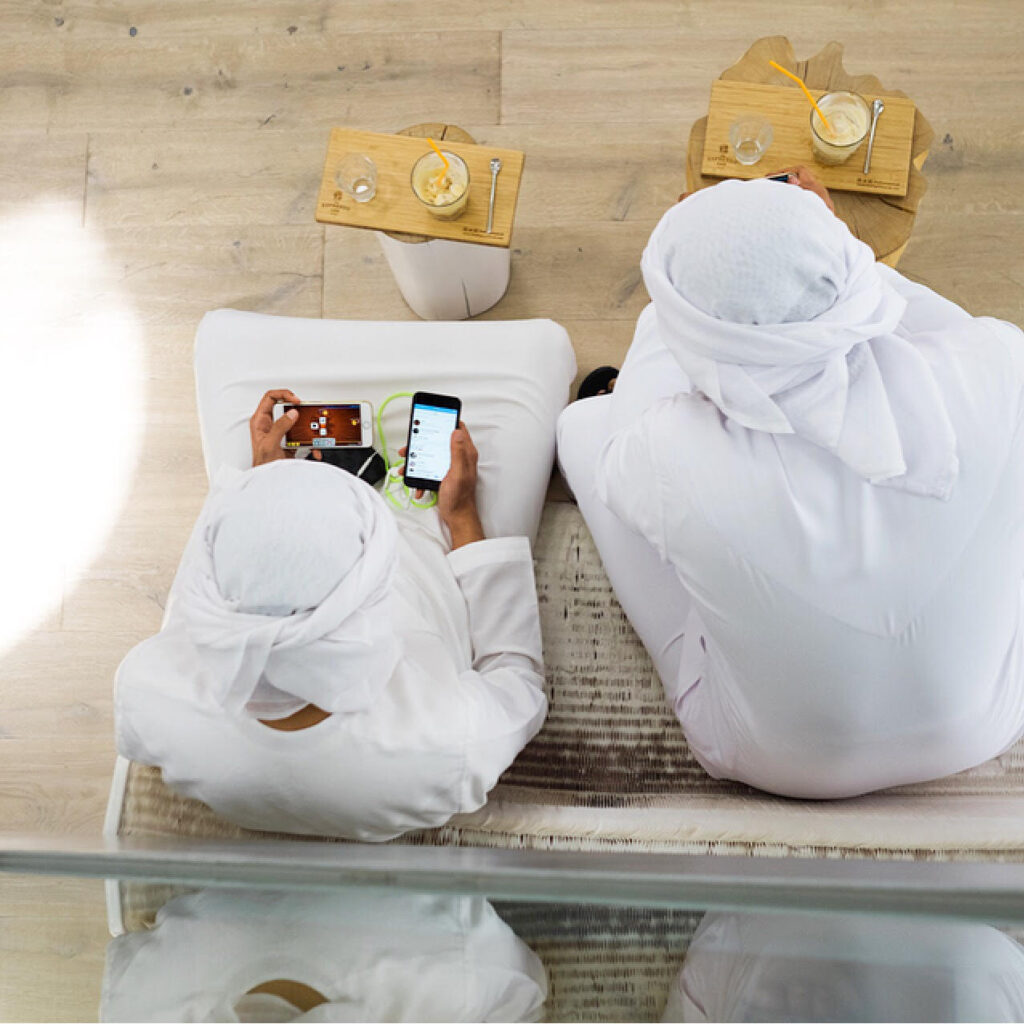 We live in a world where everything is just a click or touch away – we communicate, share photographs, pay bills, and even shop with a touch of a button! This digital era has surely made our lives easier, but at the same time, the growing dependency on our gadgets and apps has taken its toll on our health and relationships.
Tell us, when was the last time you disconnected from your mobile devices and enjoyed some good old-fashioned, face-to-face social interactions, or went for a few hours of uninterrupted silence without reaching for your phone? If it has been so long that it's hard to even remember, then this post is for you!
Technology in many ways brings us together and helps us stay close to people, but it also doesn't hurt to sometimes step away from it and take a break to remind ourselves that life is moving by so quickly–things are happening offline in the here and now and we need to pay attention.
So here is what we are proposing: Go social-media free for a day. Start by turning off all the phone notifications and emails for your social media apps, and move your social media apps to a folder on your phone called "Unplugged". Choose one time (or two) during the day to check in with the digital world. Once you've started to wean yourself from scrolling aimlessly through Instagram, Facebook, Pinterest or Twitter, go completely social media-free for one whole day (probably a day in the weekend would work best).
Now fill your time offline with meaningful things that maybe you haven't been able to do lately. Take a walk on the beach, arrange a coffee with an old friend, or read that book you have been saving for when you had the time to focus. The possibilities are endless, and you'll be less tempted to spend time scrolling through social-media when you have other activities to look forward to!
The idea is to reduce stress, slow down from all the "busy-ness" and focus on real life by engaging in social interactions in the real world, rather than on virtual platforms. Over the next month use your times of connectivity on purpose, and step away from social-media to reconnect with your family and friends to create new memories without all those fancy filters.
Have you gone social-media free for a day or longer? If so drop us a note below to let us know how it went and what you learned from the experience!
---
7 lessons I learned from running my first half marathon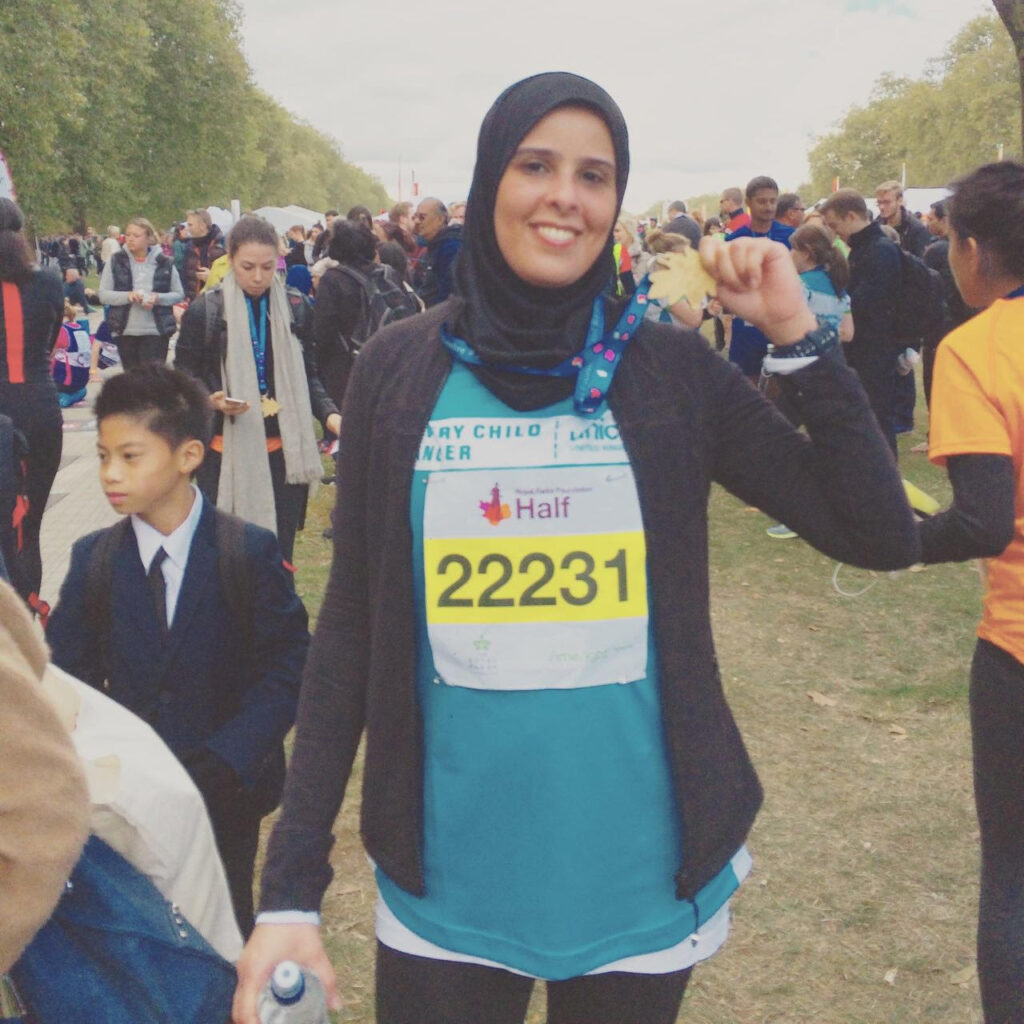 Well this came along quickly didn't it? It feels like it was just yesterday that you signed up for the Dubai Marathon, and you promised yourself that you would run miles and miles whilst training in the gym every day turning yourself into a well oiled running machine. So… how did it go? If your answer is "not quite as planned" don't worry, lots of first time runners feel exactly the same way.
Last October I ran my first half marathon in London, and before you hit the start line on Friday I wanted to share some of the lessons I took away from my experience of running in a race:
01 Stop comparing yourself to anyone else
Do not compare yourself, your endurance, your time, or your training to ANYONE else… and… Don't Panic!! Trust me when I say that before any race everyone is a little bit nervous. I know I was!  It is normal because you are about to do something that is pretty amazing, probably harder than anything you have done before and these feelings of worry and fear will later translate into feelings of pride and achievement. 
02 Fuel and hydrate properly
Nutrition is really the foundation for performance and recovery, you can't complete a marathon without fuelling your body correctly, and hydration is a careful balance of drinking the right amount and replacing what you need. Remember, your body is your home base for life. So fuel it properly by eating healthy, hydrating and supplementing wisely. One supplement that I take daily without fail is immune 360, it supports my immunity all year long and is a key to staying healthy.  I am always conscious of my diet and was even more so leading up to the day of the run. During my training I would regularly seek out advice from my team at The Hundred Wellness Centre and one of the best tips I was given was from Dr Sean Penny. Sean told me to prepare my favourite lean95 shake with one ripe avocado 1.5-2 hours before the race, preparing the shake this way meant I had a tremendous power boost of energy due to the shake being packed with lots of easily absorbed good stuff including healthy fats and amino acids ( I highly recommend doing this!)
03 Listen to your body
During my training I diversified how I prepared and moved my body, and my team at the centre emphasised the importance of stretching, warming up my muscles, as well as using a foam roller. I added Pilates into my training rotation to help balance things out in my legs and help with my alignment. Joint mobility, improved flexibility, body awareness, and of course a strong core, are just a few of the ways that Pilates can help with running.  
04 Mental strength is just as important as physical strength
During my rigorous training schedule I recognised the importance of mind over matter. I repeated to myself how strong I was, and how I've endured harder things in life than running.  I love the feeling of putting my mind to something and accomplishing it. We all do this on small and large scales every day, but it had been a while since I set out on such a major goal that was so outside my comfort zone, and I learned a lot from the experience and will carry forward the importance of consistently challenging myself. 
05 A good pair of shoes and watch your pace
Do not EVER run a race in new shoes! For the best fit and the most comfortable running, match your foot type (yes there are many types of arches) to the shape and components of your running shoes, and the best way to do this would be to go into a running store and have a proper fitting. When we come to the issue of "pace".. Here are my thoughts: Don't go out too fast. You will be tempted. Resist. Don't do it! Setting the pace for your run is a process that starts in training. It depends on your race type, goal times, current fitness level… the list goes on. My best advice here? Aim for a steady rhythm the entire race. Wearing a watch really helps with keeping track of your pace, and for long distance races like the half marathon I find it is best to break down the race into manageable chunks. 
06 An AMAZING playlist is a must
I know that some people like to run without music to get "in the zone," but not me. I feed off lyrics that are uplifting and empowering. Truth be told sometimes I run listening to one song on repeat! TrailMix Pro is an amazing app that actually syncs the music to match your steps seamlessly. It has other great features as well so I highly recommend giving it a try. 
07 Recovery time
You did it! The race was successful, but once you reach the finish line, it isn't quite over yet…Recovering from a marathon is a critical step that runners often neglect. First off, grab some water and hydrate! Your body also needs fuel to repair your muscles right after your race, so that is when I take peac which provides easily absorbable amino acids without overloading or excess calories and Microhydrin to help boost the muscle repair! One other thing to try (I love this one!) is Epsom salt baths for their restorative benefits—soaking in the magnesium rich salts can reduce inflammation and helps restore electrolytes to your muscles.
In the end, I wouldn't trade the experience I had training for and then running my first half marathon with anything! It truly feels like such an accomplishment to cross off my personal achievement list. Overall, I became more in-tune with myself on a new level, so if you're getting ready to get out on Friday and run in the marathon I hope these tips help you! Good luck, and once you are done we would love to hear about your experience!
Save
---
sustainable weight loss: "only two words really matter"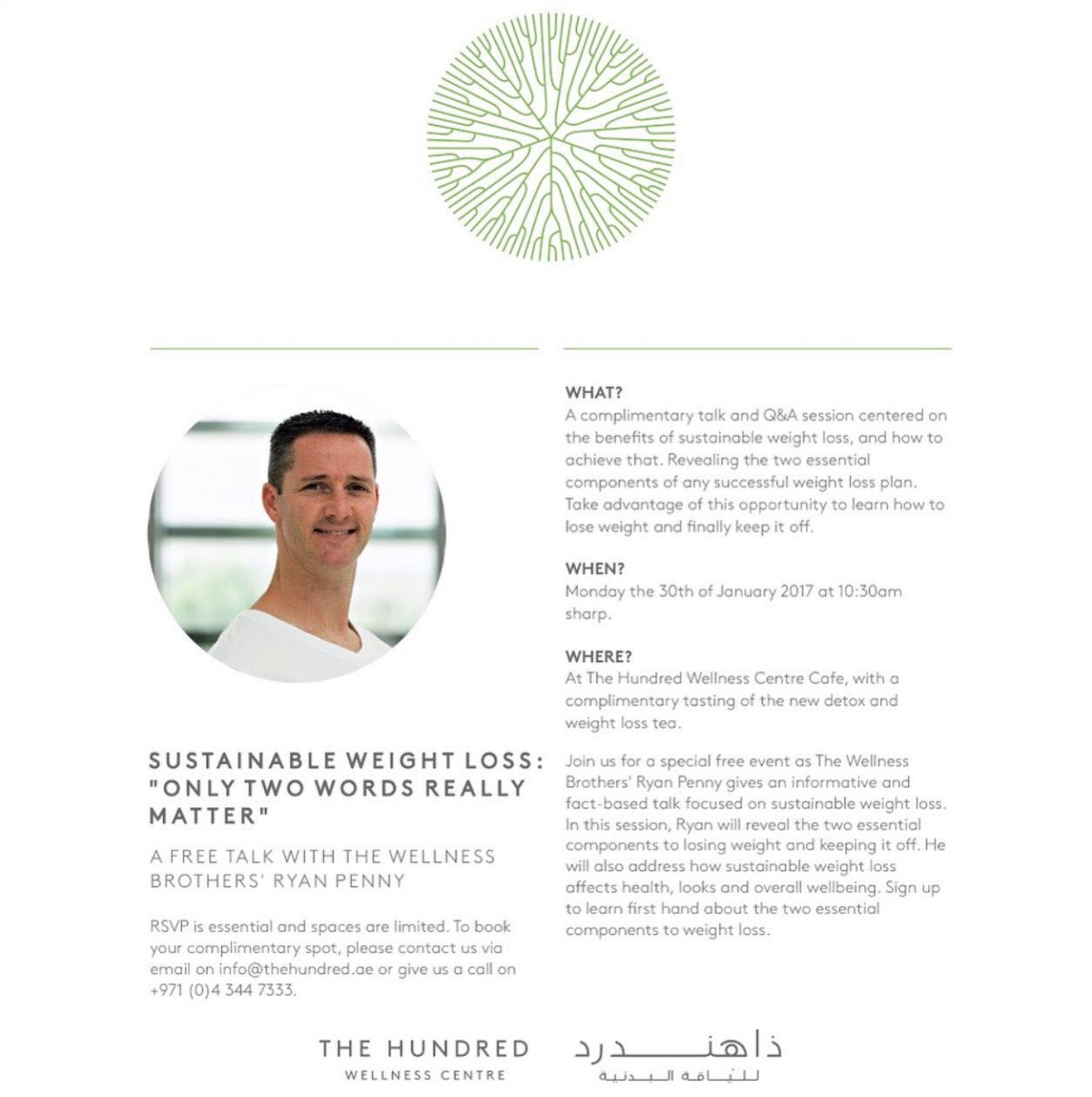 You are invited to join us for a complimentary talk and Q&A session focused on the benefits of sustainable weight loss, and how to achieve them. Discover the two essential components of any successful weight loss plan and take advantage of this opportunity to learn how to lose weight and finally keep it off.
On Monday 30th of January at 10:30am, Ryan Penny will host an insightful free talk centered on sustainable weight loss and it's benefits at The Hundred Wellness Cafe.  Enjoy a complimentary cup of our new detox and weight loss tea whilst Ryan reveals the two essential components to losing weight and keeping it off once and for all! In this session we will also learn what the plan involves, and how when it is done right, losing weight can postively affect your health, and overall wellbeing. Don't miss it!
RSVP is essential and spaces are limited. To book your complimentary spot, please contact us via email on info@thehundred.ae or give us a call on +971 (0)4 344 7333
We look forward to welcoming you on the 30th.
Find out more about The Wellness Brothers' services at The Hundred Wellness Centre here and here.
---
hitting the reset button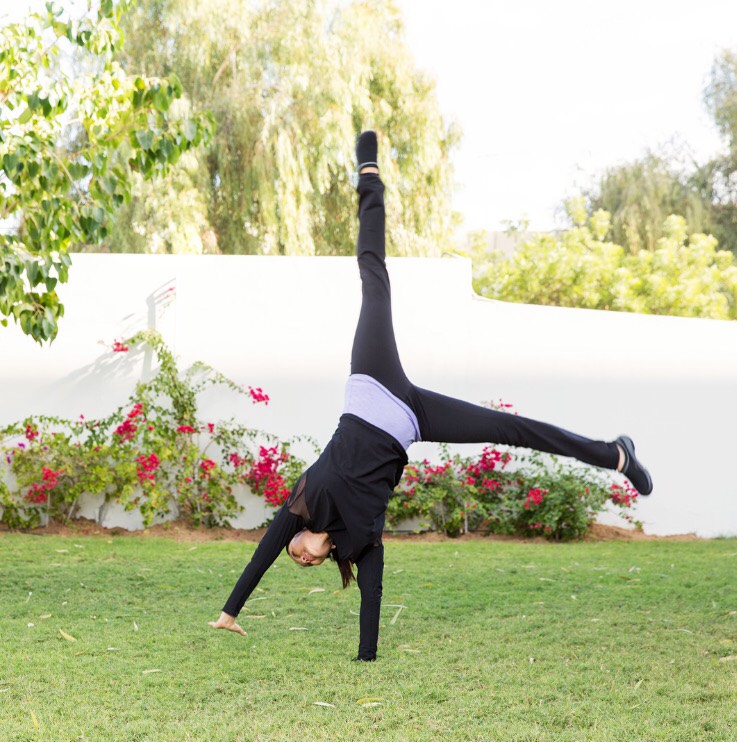 It's a brand new year, and after days, (or weeks) of indulging in sugar and rich foods, combined with a lack of exercise or time to take care of yourself, it's no surprise that you are possibly feeling a bit out of sorts. To help you get back on track we asked our team members to give us some pointers to help jump start the process of getting you to your best health and vitality in the new year.
To start off, the best first step, would be to give your body an opportunity to heal it's digestive tract by taking a break from all forms of sugar, dairy, and gluten for 30 days. This may sound hard, but it is so worth it and we can help! Eliminating these foods actually is the cornerstone of the very successful 'Down-Size-Me Diet Plan' which was developed by Lifestyle Consultant/Weight Loss expert Ryan Penny, and his brother our in house Homotoxicologist and Homeopathic Practitioner Dr Sean –  The Wellness Brothers. This plan is offered at The Hundred Wellness Centre, and the brothers are on hand to personally support you in achieving your weight loss and wellness goals, while creating programs that fit comfortably into your lifestyle. And with the plan being built on a foundation of solid science and common-sense it ensures that cutting calories and improving health, does not involve a total restriction of the foods you enjoy!
Next we would encourage you to move your body in mindful ways – as much as we are told by mainstream media that the new year is the best time to start a hardcore exercise program, it's really not! While getting back on track, your body will be much happier doing more mindful exercises like Pilates, Yoga, Gyrotonic Expansion, or even our Super Circuit Classes – all of which we offer in many ability levels at the centre! If you are not sure where to start, give us a call or visit us and we can help guide you to the program that best suits your needs.
While the idea of a new year brings on the excitement of being able to start fresh, it also comes the pressure of keeping up with everything that comes your way. Our advice? Slow down – Prioritize. Have less on your schedule. Move your body. Go to bed early. Read a book. And allow yourself the space and time to reconnect to what nourishes your mind, body and soul. 2017 is waiting, and every step you take to move forward is essential, so get in touch to find out how we can help you make this your best year yet!
---