Monthly Archives:

April 2018
Health – It's a family affair | Free talk with Ryan Penny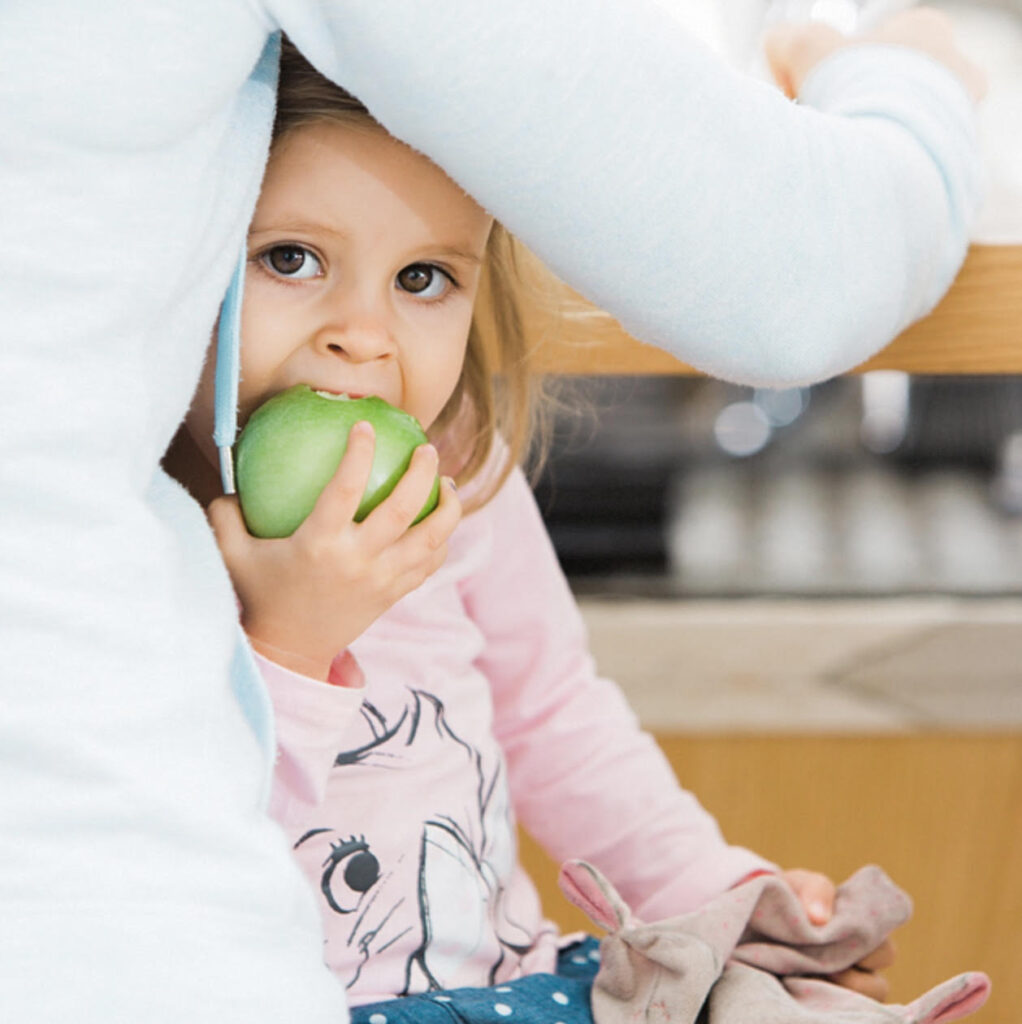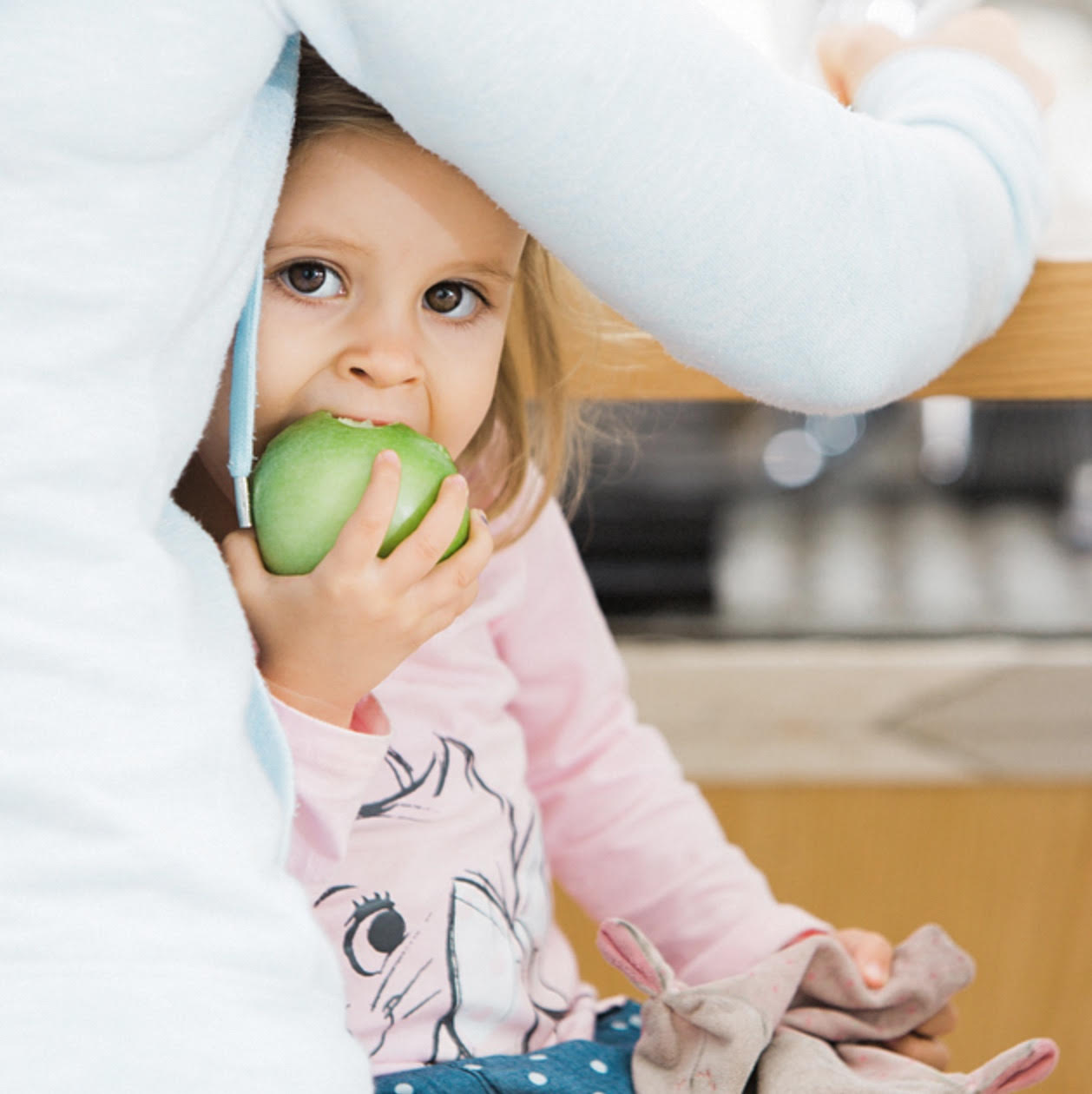 Keeping your family healthy is not always easy. We all know that with the busy-ness of daily life paired with the challenges of preparing healthy meals and making time for exercise, living well can be challenging to say the least! 
The good news is that there are some great, practical, and convenient ways to overcome many of these challenges. And the even better news is that you are only one step away from receiving those valuable tools and tips that will help you learn some real solutions for some of the most common problems faced by families today! 
So, if you would like to learn some tips on how you can build the health of your whole family – join Ryan Penny at The Hundred as he shares his own family's approach to living well in Dubai, and then learn how to make the Penny Family's nutritious and delicious 'Immune Boosting Breakfast Smoothie' (known to be a hit with kids of all ages!) 
Join us and learn the steps to experiencing more active and truly healthy lives! 
Details: 
What: Join us for a discussion on family health and breakfast smoothie 
When: 15th April, Sunday 
Where: The Hundred Wellness Centre 
Time: 10:00am sharp 
10:00am – 10:45am: General discussion on family health with a Q&A session.  
10:45am – 11:00am:  Learn from Ryan how he makes his 'Immune Boosting Breakfast Smoothie' and of course have a taste as well! 
Spots are limited. To reserve your seat email info@thehundred.ae or call us today on +971 4 344 7333 
---
art + wellness | under one roof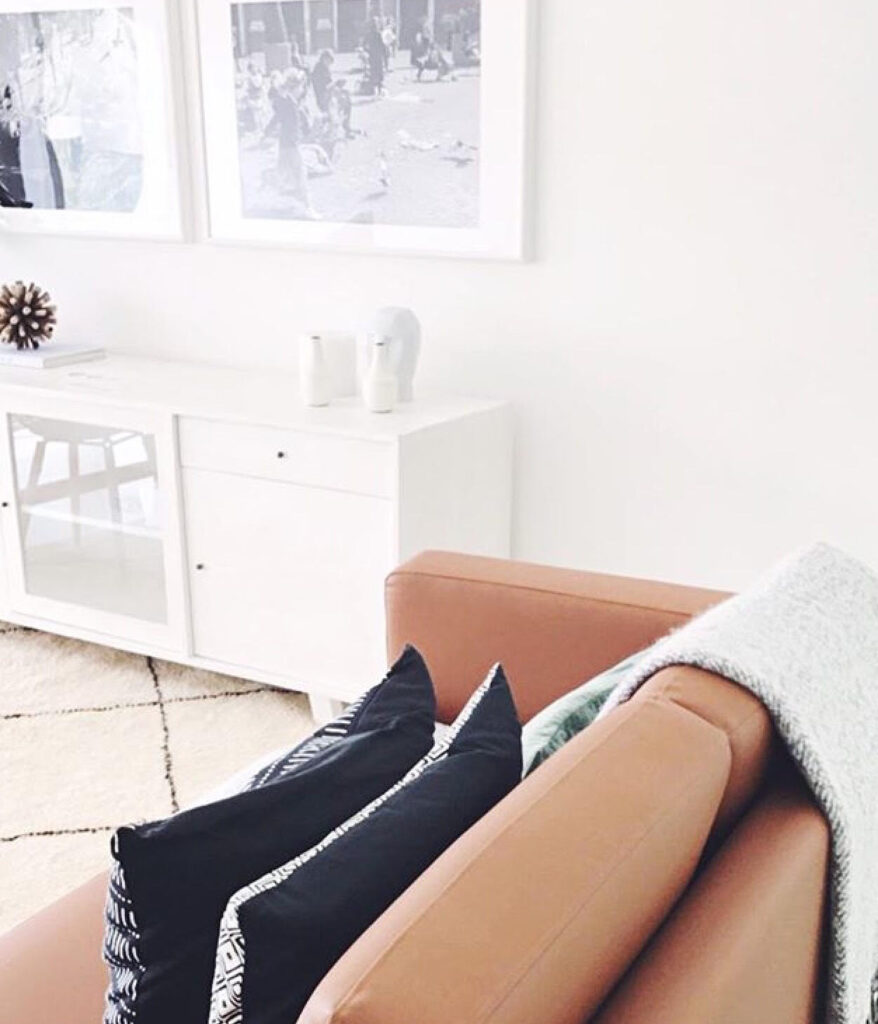 Gym, pilates studio, cafe, art space – all these words have been used to describe our favourite spot in all of Dubai –  The Hundred Wellness Centre. With so many wellness services on offer here, it was important that the space itself reflects The Hundred Wellness Centre lifestyle, and anyone that knows our founder Asma Lootah, knows that this centre brings together two of her passions – fitness and art. It's no secret we love to host art workshops whenever possible! Now with Art Dubai starting we wanted to turn the spotlight on to our centre, and some of the curated design and art pieces you will see when you visit us.  The Hundred Wellness Centre is a hybrid concept born from the perfect union between the love for art & design, and a fully functional fitness center.  Tucked inside a peaceful villa in the heart of Jumeirah, every little design and decor detail has been thought out, from the chairs in the waiting areas, to the original photography by Asma herself, all the way to the coasters that you rest your teacup on.. The Hundred is definitely not your average fitness studio. The team here practice a holistic approach to wellness, which means they focus on how the three main areas of your life – body, mind and soul –  are connected and how they can be optimized to improve your overall sense of well-being. The Hundred has been painstakingly curated to truly help our clients feel at home – and at peace, while celebrating amazing UAE local talents, and the mere fact that a person can get all of these services within a functional art-centric space is truly unique. Each and every piece of art at The Hundred Wellness Centre has a purpose and a story behind it's journey to finally finding its home here, and you can read more on the tales of some of the pieces that are dotted around the space by visiting our website, or the next time you visit just ask one of our team! 
---
let's talk adaptogens and immune 360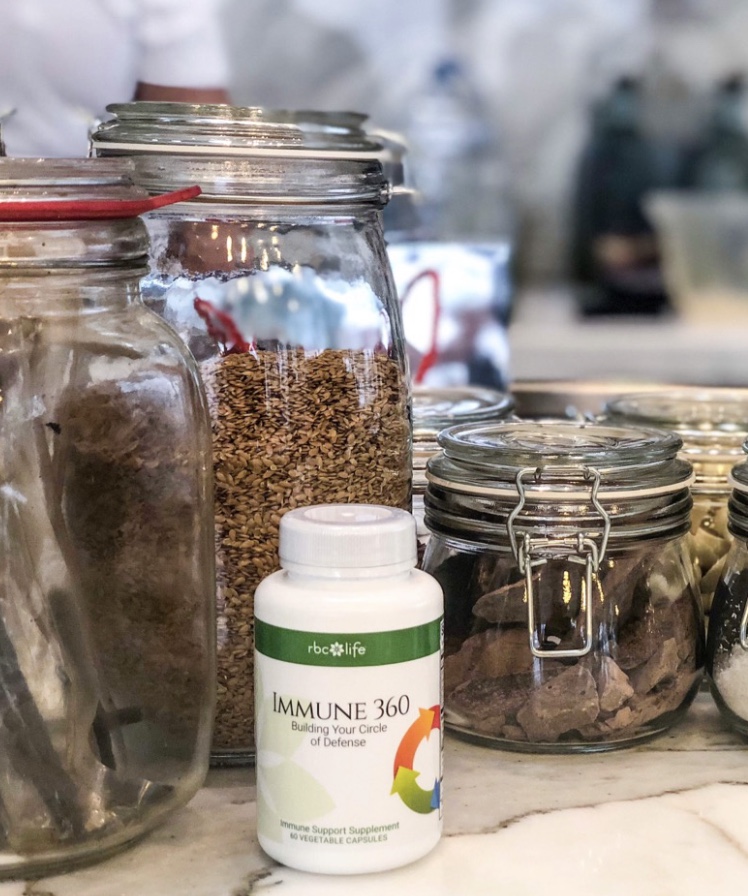 You may have heard, there are some new kids on the block and their names are 'adaptogens'— Only they aren't new to us at The Hundred Wellness Centre! If you are a regular client you know that our best-selling supplement 'Immune 360' has somewhat of a cult following, and we can't keep it on our shelves! But did you know that part of the magic of this supplement lies in the ingredient list which includes.. Can you guess it? Adaptogens! 
Now, we can't tell you how excited we are about this post! We get countless questions about adaptogens and now we will finally shed some light on this topic for you. So let's dive right in! 
What exactly are Adaptogens? 
Adaptogens are a special group of natural herbs that help your body 'adapt' to the specific needs that your body has, such as coping with stress or fatigue. They are natural remedies for your adrenal system. They enable the body's cells to access more energy by helping them eliminate toxic by-products and utilize oxygen more efficiently. And these Adaptogens have been 'Tried and Tested' in Traditional Chinese and Indian cultures as medicinal herbs for thousands of years! 
One of the most potent adaptogens in Immune 360 formula is Ashwagandha, which is probably the most known adaptogen today- Ashwagandha is great for soothing your nervous system and boosting immunity and is a rich source of iron. 
Another powerful ingredient in Immune 360 is Astragalus —a Chinese herb used for thousands of years to strengthen the body. Astragalus supports immune cells, which play a major role in protecting us from viruses.  
And finally adding the finishing touches on this blend we find the Maitake mushroom, also known as the Magnificent Dancing Mushroom. This highly regarded Japanese mushroom has been shown to activate the immune system and contains beta-glucans (Beta-glucans work by activating the immune cells known as Macrophages. These Macrophages trap and consume foreign substances that do not belong in the body.!)  
Of course these adaptogens are in the formula in addition to lots of other good stuff! So, what do you think? Do you already use any adaptogens, and have you noticed a difference in how you feel? Are you thinking of adding some to your diet but still have questions? Drop us an email or call us to book a session with Dr. Sean Penny to explore further. 
Oh, and if you'd like to try Immune 360 for yourself drop by to pick up a bottle! 
---
plants – every home needs some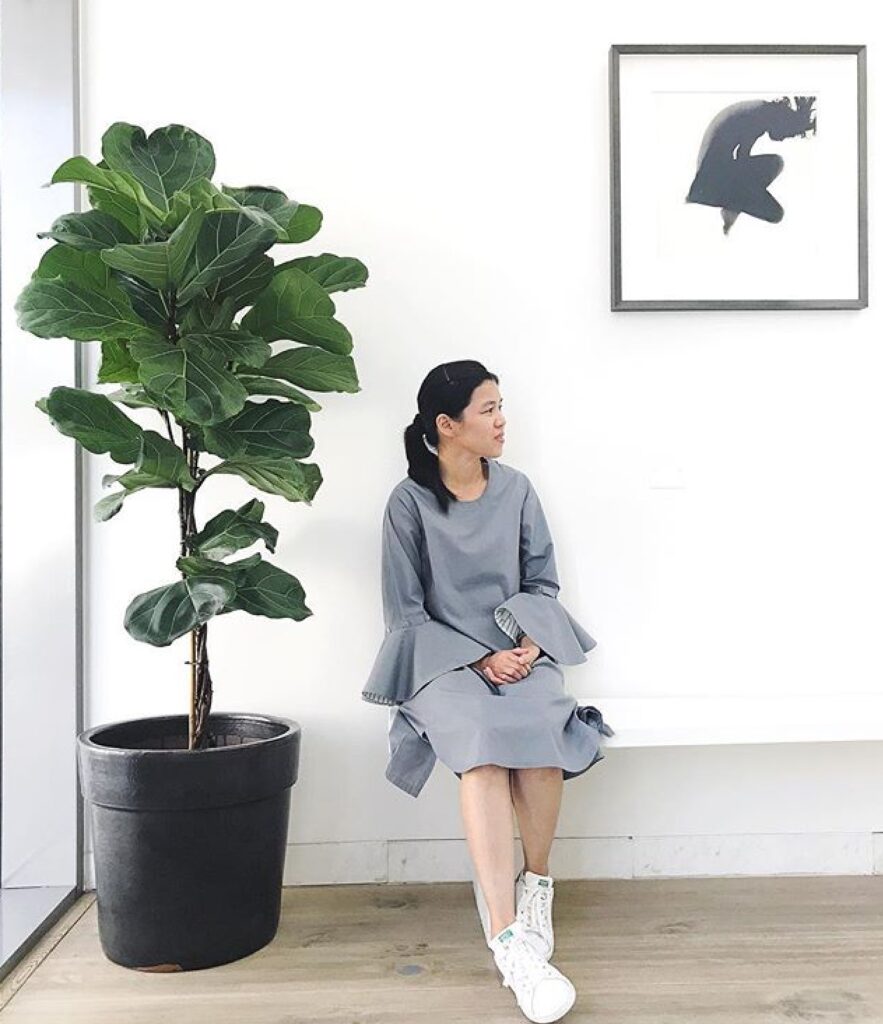 There's something about plants that just liven up a room, right? They add color, texture and warmth to the home, and they can even improve air quality. Most indoor plants are pretty easy to grow, but they must be given appropriate care in order to thrive, but as lovely as they can be, they are one of the more intimidating parts of home décor. After all, when was the last time your coffee table began to yellow, or your floral wallpaper refused to blossom? 
That said, they are 100% worth all the trouble! Not only is some greenery good for ambiance, but studies actually show that adding even one indoor plant in your living or work space can: 
reduce airborne toxins,dust particles and carbon dioxide levels

 

regulate temperature 

 
So, what do you say? Ready to go green with The Hundred Wellness Centre? Here are some tips below, but remember: To be a good gardener, you need patience and grace because you will make a few mistakes along the way – and that usually means killing a few plants til you get a hang of it all! 
How much light?
All plants need light. But not the same light. It's one of the most defining factors for plants, so it's important to know what type of light your house receives before selecting your varieties. Not sure what all this means? Ask! The people that work with plants are a wealth of knowledge and love helping us choose which plants work best for our homes. 
Water accordingly:
One of the most common mistakes you can make is over-watering or under-watering a plant. (We are guilty of this one!) Do your research and understand what your particular plant needs. If you're an inconsistent waterer, get plants that tolerate a little neglect. 
Clean the leaves:
Some indoor plants have large leaves and because of their large surface, they tend to collect a lot of dust. To keep the plant healthy (dust can block light absorption), wipe dust off with a soft cloth. 
Tell us— do you have a green thumb? Can you share with us any tips that have worked for you? 
---
a power session with Beryl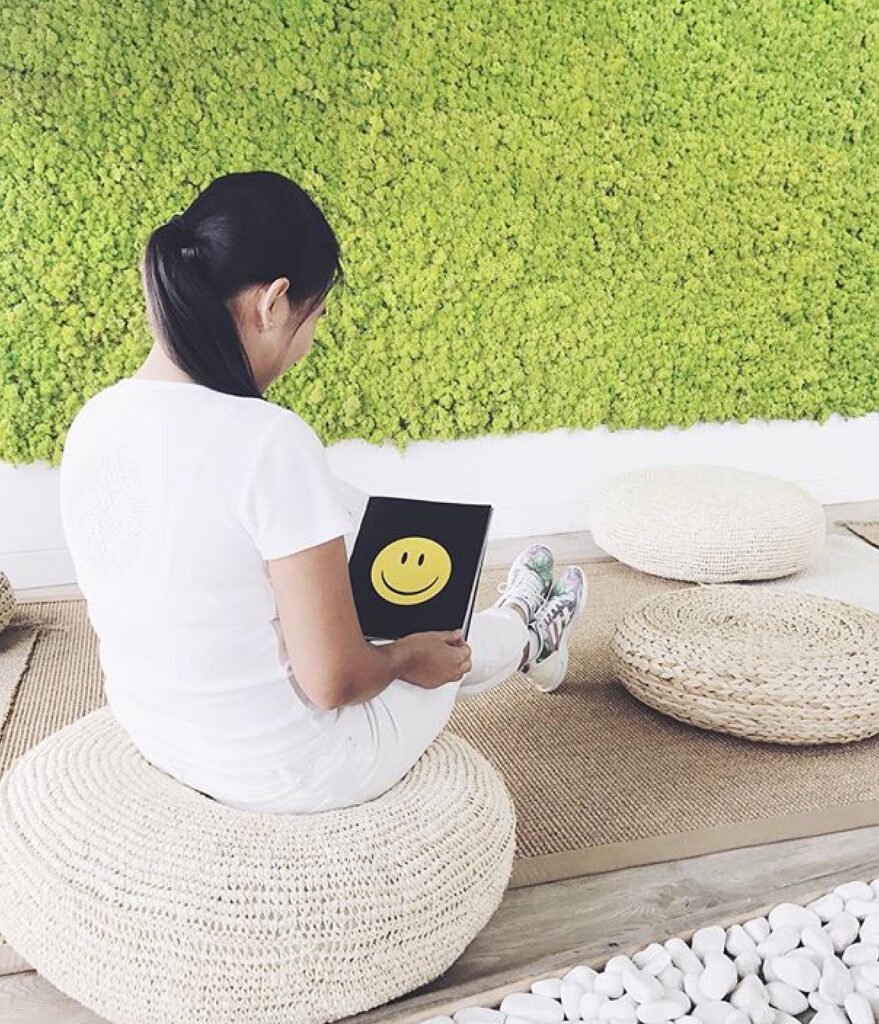 Ever wonder what a session would be like with an NLP Gold Master Trainer, Emotional Intelligence Development Coach, published Hypnotherapist, and Relationship/Communication Coach? Well, wonder no more! This month we are excited to welcome one of the only people on Earth that holds all those titles (and more!). Our super talented friend Beryl Comar is coming back to The Hundred Wellness Centre, and whilst she is here over the upcoming month, Beryl will be seeing clients to conduct private sessions using a combination of counselling, coaching, hypnosis, NLP and EFT for a variety of issues including: fears, phobias, stress, anxiety, relationships, communication, quit smoking, hypno-fertility, pain management, anger management, insomnia, grief, sadness amongst other things.  
Beryl has also been working with people that have a selective eating disorder (SED) or food neophobia (which is an extremely restricted diet, often to the point of avoiding entire food groups). She also is the only person in the Middle East trained by Felix Economakis in his "Freaky Eaters" techniques. She will be specializing in these techniques during her visits to The Hundred. She can help people with their "strange" food issues.
So, if you (or someone you know) have trouble eating healthy food because you're a picky eater. Or if you experience significant anxiety when trying new things, or eating things outside your comfort zone or, you have a very small repertoire of accepted foods.. consider booking a session.
Selective eaters can change, they want to change, but don't know how. Beryl can guide them through the change, so call The Hundred and make an appointment to see Beryl – places go fast! All ages welcome from 6-66
Beryl will be available Sunday thru Wednesday at The Hundred during February and April. Email or call us on +971 (0)4 344 7333 to book your session.
---
marathon runners | stretch it out 
Get your running shoes out and ready for some action, because in a few days it's that time of year again… Standard Chartered Dubai Marathon time! Now maybe this year you're running to raise awareness for a cause that's close to your heart, or maybe it's something that's been on your bucket list and is a personal challenge. Whatever your motivation is for running a marathon is, one thing is for sure— the experience is ambitious, and life-changing.  
Training for a marathon is an intense process that takes place over the course of months or even years. From building your base mileage, to working on your time and speed, you will constantly be challenging and pushing your body to its limits. So, it's no surprise that many runners implement yoga into their training for a marathon. Sure, we all know that yoga is a stress buster. But it also packs some serious perks for runners, like improving flexibility, easing aches and pains, and helping you recover from long runs and races faster.  And the body isn't the only thing to benefit from yoga. During a yoga practice the mind is also strengthened with a sense of determination that will definitely be crucial on race day. 
We asked our in-house super strong+ stretchy Yogi Walid for some of his favorite poses for runners. These can be practiced pretty much anywhere, but try focusing on these postures next time you're in a yoga class, and feel free to ask Walid for pointers on how to perfect them. Good luck on your race! 
Upward-Facing Dog Pose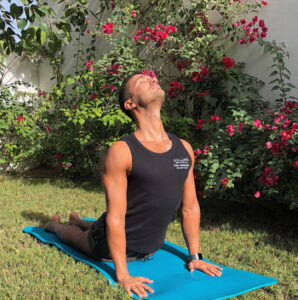 This pose will challenge you to lift and open your chest by expanding the rib cage, while strengthening your arms, shoulders and wrists, as well as increasing flexibility in the back and neck. This is an important pose in yoga for its ability to align the spine and stimulate the nervous system, and can be done before and after the run. 
Steps:
01. Begin lying on your belly with your legs extended straight back behind you and the tops of your feet relaxed down on the mat, hip distance apart. 
02. Plant your palms beside your ribs so that your elbows are bent approximately 90 degrees and your forearms are relatively perpendicular to the floor. 
03. Look up and on an inhale, press firmly into your palms and straighten your arms, lifting your torso, hips, and the tops of your thighs up off the ground. Your shoulders should be stacked directly over your wrists. 
04. Relax your shoulders away from your ears, then begin to roll your shoulders back and find the action of pulling your chest forward through your upper arms.  
05. Keep your belly in toward your spine. Remain in the position for 5-10 deep breaths, then exhale slowly and come back to starting position. 
Bridge pose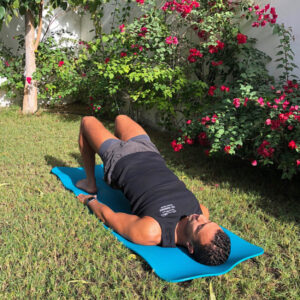 This pose can be performed before or after a run, and is effective in relaxing the body and reducing stress. It stretches the chest, spinal cord and neck, and works exclusively on your spine and hip joints. It also helps relieve pain, stiffness and discomfort in these regions and helps resolve any disorders associated with the neck, arms and palms.
Steps:
01. Lie flat on your yoga mat, with your feet flat on the floor, and your arms by your side, and knees parallel to your hips. 
02. Now exhale and push up, and off the floor with your feet. 
03. Raise your body up leaving your neck and head flat on the mat, and the rest of your body is in the air. You can use your hands to push down for added support. 
04. Stay here for a few deep breaths, then bring your spine back to the floor by articulating it one vertebrae at the time. 
Legs-Up the Wall Pose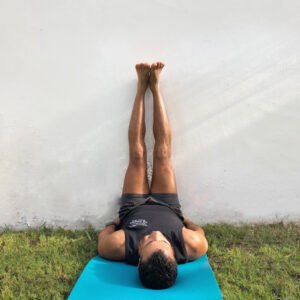 This a restorative yoga pose that allows the mind and the body to relax, relieving stress and tension while stretching the hamstrings and back after a run. 
Steps:
01. Find an open space near a wall.  
02. Lie on your back, making sure that your hips are grounded on the floor as the back of your legs press against the wall, and the soles of your feet face upwards. It will take you a little bit of movement to get comfortable in this position. (you can also bend your legs a bit if you have tight hamstring muscles). 
03. Now take a few minutes to breathe and enjoy this relaxing stretch!
We hope that these help and remember: A muscle is only as strong as it is flexible! So get stretching!!
---
gratitude challenge | count your blessings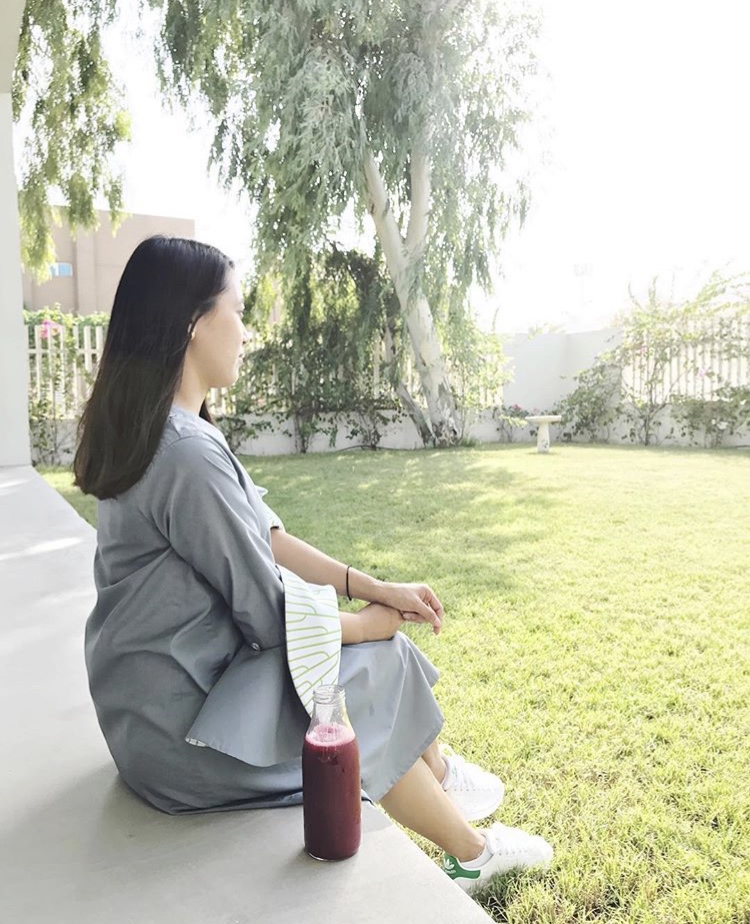 Expressing gratitude isn't always easy, actually sometimes it's work.. Really hard work! Why? Because we can get so caught up being busy with our to-do lists and keeping up with everyone in the fast lane, that some days can leave us completely losing sight of all the gifts that are all around us.  
You see, gratitude isn't something that only happens to us when good things come.  It's something we practice and cultivate and give.  'Gratitude unlocks the fullness of life.  Gratitude turns what we have into enough, and more'- Melody Beattie.  It's so easy to look at the 'little' things and think of them as small and non-important.  But let's shift that perspective and look at each and every one as a little miracle.  And the everyday miracles and gifts in our lives were meant to be acknowledged, shared, and passed on.  
To help you on your gratitude journey, here are a few tips to become more aware and able to practice gratitude in your daily life. Simply choose 5 minutes (or more) a day to sit quietly and express your gratitude by writing them down – big and small. This practice alone will improve your overall outlook on life. So, go ahead, write 10 things, or write 50! The number isn't important… Just give it a try! 
This month, we have a special challenge for you.  Pick a friend, family member, colleague or whoever, and agree to share daily 3 things that you are each grateful for. You could also do this on social media possibly, by paying it forward and sharing stories of giving (maybe highlight a friend or small business who is doing great things for others!)   Let's help each other appreciate and celebrate the blessings all around, and right in front of us!  You never know how your little gesture of thanks — whether a text to a friend, an open door, a small donation, a smile, or an unexpected long hug will completely change someone's life. 
Make thanks AND gratitude happen today.  Let's get started right now! What are YOU grateful for? Let us know in the comments below or tag us on social media @thehundredwellness 
Quick exercise: Thank someone RIGHT NOW.  If you are reading this, you either have a phone or a computer, so make the call, send that text or write that email.  You never know how your kind gesture it will affect and change a person's life. 
---
goals with intention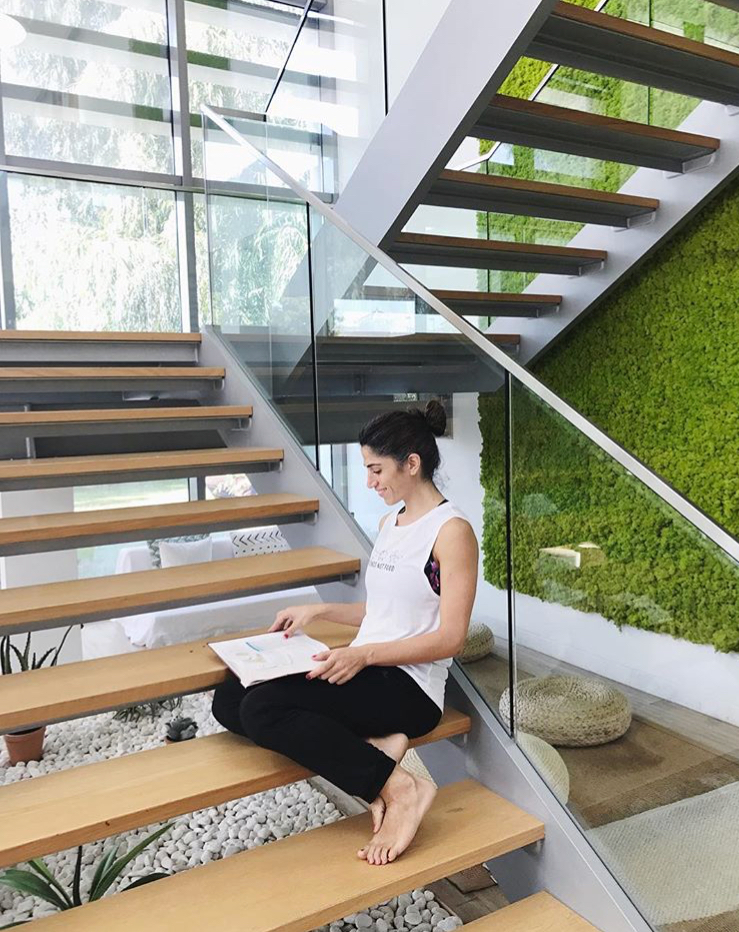 Ready, set, goals! Here we are in January! With another 12 months to really push ourselves to live the best way we can. Twelve more full months to live intentionally and be the people we want to be. 
It's so easy to get caught up in our bad habits, routines that no longer serve us and relationships that are sometimes more negative than positive. 
It's easy to keep doing everything the same. It feels comfortable. It feels safe. It gives us that much sought after feeling of security. 
But here's the thing … when you change things up and push yourself to step out of your comfort zone and change usual patterns, you'll never regret it. New goals don't have to be loud and 'big' to be powerful. What they need to be, is sustainable and real. Connected to what matters to you. Authentic to your life, right now where you are. 
To get some clarity and direction, take a few minutes of quiet for yourself this week, turn your phone on silent and answer these questions. 
01. What's your word? —With a whole year ahead of you, what is one word that you would like to define your everyday actions going forward? What one word resonates most with you, pulling together everything you want to grow and nourish? Your word can be taken as a mantra, a reminder, or even a promise. And the good news is that a word can't be 'broken' like a resolution — so, it feels more gentle and forgiving somehow. 
Note*: When you are thinking about your word, it can be for the season ahead, not for all of time. It doesn't have to be perfect, and you can always change your mind later!  
02. What's important to you? —What areas of your life, and your personal journey need the most attention this year? Get real with why you want these things to happen, what you will need to do, and why they are important to YOU. Answering these questions will help you act on your goals. 
03. What you are saying YES to, and what you are saying NO to? — First off, there are no wrong answers here. Examples can be: saying no to 'comparison', and saying yes to 'less time on social media'. Remember you are making decisions, and by saying no to one thing, you are saying yes to something better! These two lists will help clarify where you are going and where you DON'T want to go in 2018. 
Share your thoughts, words, and lists with a close friend, or even with us here in the comments to keep yourself accountable! 
---
wellness on trend
With each new year, comes new health and wellness trends. In 2017 as we became more focused on sustainability, gut health and better nutrition, and it set 2018 up to see a flood of new health products that better support our general health and wellbeing. To give you a heads up on what wellness trends we expect to be huge hits in 2018, we compiled a list of a few: 
01. DNA testing for optimal fitness performance—DNA testing has become more popular than ever over the past year. The promise of genetic testing is that it can tell you more about the way you're built, so that you can tailor your lifestyle to fit your biology — and ultimately change up your fitness routine to get the best results. 
02. Gut Health—Fermenting – Have you been noticing more kombucha, kimchi and sauerkraut around these days? That's due to the role of bacteria in gut health, which is linked to everything from Alzheimer's, immunity, and obesity. A Google Trends analysis (June 2017) showed 'gut health' as one of the most growing search terms when it comes to managing health through food. 
03. Mindfulness trackers—Move over fitness trackers, because 2018 is all about the mind trackers. We've already seen apps such as Headspace and Buddhify, but now mindfulness trackers are being developed to help monitor our breathing patterns with a view to working out exactly when and what causes you stress. It's thought that these devices will also pay attention to the way in which we sleep, recording different levels of sleep and again relating it to how stressed we may be feeling. 
04. Digital detox—Digital detoxes are also becoming more and more necessary in our constantly switched on society.  (We have been promoting this trend all year long!) As much as we try we just can't ignore the pings of status updates, WhatsApp messages and Insta-stories. We predict that the phrase 'disconnect to reconnect' is going to be massive in 2018, as more and more of us start to notice the impact that social media has on our health.  
05. Cooking—While it may seem silly to include this in our list, but can you believe that a large percentage of the world's population still doesn't engage in cooking daily sometimes not even weekly? Cooking from home doesn't just ensure the quality of your food, and your ability to control what ingredients are actually used, but it also can be super relaxing!  
06. Plant based diets— It's not just about fancy superfood salads anymore, it's actually creating delicious, sustainable, and healthy menus surrounding plant-based food. We have started to see restaurants pop up with with whole food menus, and our fingers are crossed that this trend will stick and grow bigger into 2018. 
07. Ditch the fad detoxes—This is one trend that we wish had been gone a long time ago, so we're predicting that these harsh detoxes will die down, and be replaced with whole food resets/ lifestyle programs, that use more evidence-based science which shows that whole foods and compounds support our body at what it already does best- detox every minute of the day. *Spoiler alert: Stay tuned for more on this from us early 2018!!  
So, tell us, what are the trends you're predicting for 2017? What about trends you wish would go away!?
---
reminders for the new year
Preparations are in full swing for the new year, and everyone's getting ready to turn the page and close the last chapter of 2017. So, as a gentle reminder to keep us all moving in the right direction we at The Hundred Wellness Centre decided to put together a few thoughts on how to keep up the great work! 
Reminder 01- Little steps do add up. While we haven't necessarily made perfect progress on all of our goals this year, we have made little-by-little progress. And embracing this imperfect progress will help you to not completely give up when things don't go as planned (and we all know that happens quite a bit). Remember, that in the right direction, small steps forward (even with a few steps back) are adding up. 
Reminder 02- It's okay to grow slow. In fact, the best thing ever IS to grow slow and steady. Think about it: do you plant a seed and expect to get an all full-grown tree by the next morning (even though we might wish for this secretly sometimes right?) We often crave overnight results but that often leaves us with roots that are not deep enough to sustain our growth. All good things grow slowly— love, babies, flowers, big dreams/goals and meaningful relationships.
Reminder 03- Changes can be hard, but as challenging as they are sometimes… they might actually be good for you! So, open your heart and mind to the possibilities. 
Reminder 04- Finally…. You know all those things you've always wanted to do? You really should go do them. 
---