Monthly Archives:

March 2018
international women's day | a time for action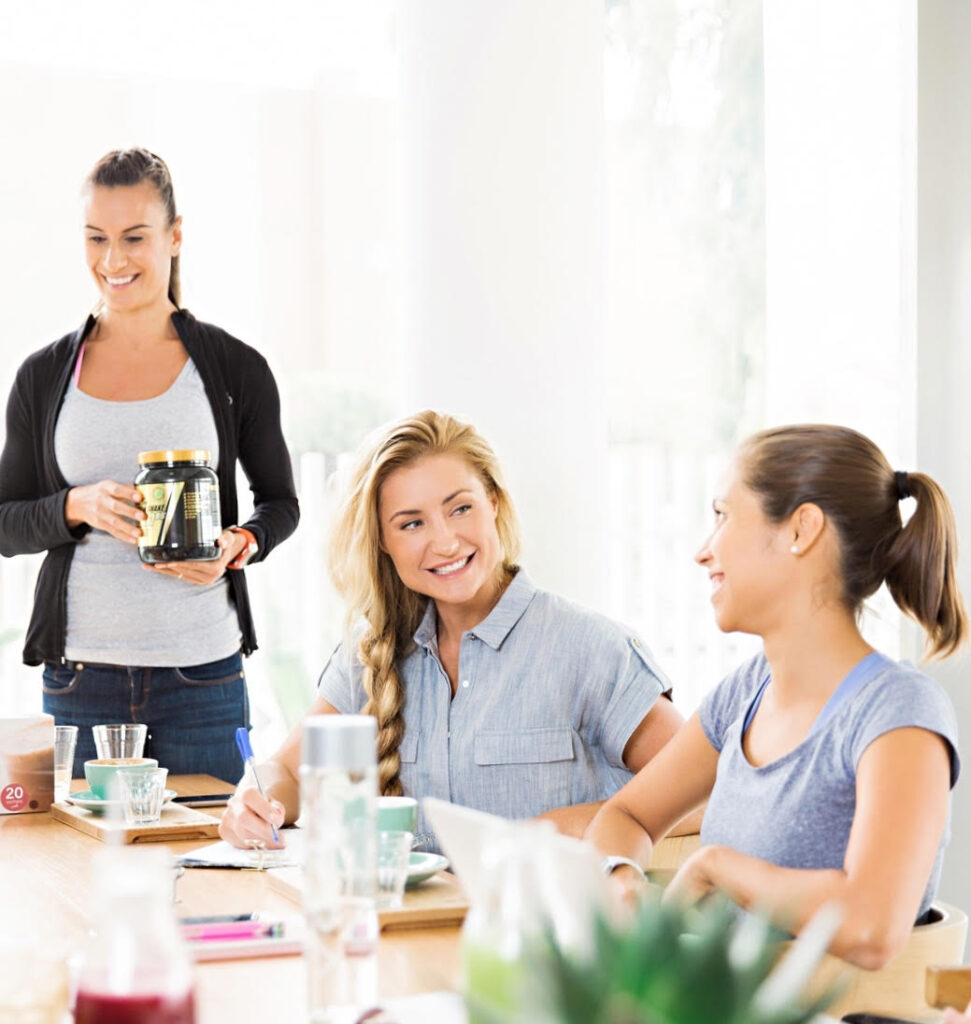 It is International Women's Day today. And on this day, we at The Hundred Wellness Centre celebrate the many women, and even men, that have given their hearts and souls to the cause of striving for a better life for all women across the globe. But unfortunately, in an effort to multi-task, we find that women often neglect their health, which is essential for a healthy, and happy family (and life) , and what better time to take some action and change that??
So, having said that, ladies, tell us: Have you been suffering from fatigue, mood swings, memory loss and mental fogginess or maybe some unexplained weight gain? If so, you might want to make an appointment to meet with Dr Sean Penny our in-house holistic practitioner and Homeopath. Dr Sean will be able to walk through the changes you are experiencing and take a look at the effects of stress on your life with you, and he will then help to pinpoint more precisely using some of our highly acclaimed non-invasive diagnostic tests such as the AlfaSight 9000, DNA hormone tests, Bioresonance therapy and more! Also, under our roof you will be able to start moving in a more mindful manner with our Pilates, and Yoga classes and even pop into our private Infrared Sauna… Oh and not to forget that we also have a selection of highly potent natural supplements that Dr Sean can advise you on what to take for optimal health and function… 
So, as they say: it's never too early (or late!), so call us on +9714 344 7333 or email us to book your session! Have a happy and healthy International Women's Day, ladies! 
---
An interview with the expert – Dr. Sean Penny | DNA testing at The Hundred Wellness Centre Dubai
Earlier this week, we introduced you to DNA testing at The Hundred Wellness Centre – the cutting-edge technology that brings you incredible information about your health based on your genetic code, enabling you to prevent future problems and potential illnesses with lifestyle changes and possible treatments/supplements. Today we present an interview with the expert, as lifestyle blogger and the contributing editor to this DNA testing series – Holly Hollywould – interviews Dr. Sean Penny…
Dr. Sean is The Hundred Wellness Centre's resident, in-house homeopathic doctor and one half of Dubai's Wellness Brothers. Holly sat with Dr. Sean to find out more about DNA testing: How it can help you and why it's one of the most invaluable tools in the wellness market right now…
Hello Dr. Sean. Please can you tell us a bit about yourself? I am a homeopathic practitioner. Have a masters degree in homeopathy and I've been working in Dubai for the last 12 years. Initially I worked at The Dubai Herbal and Treatment Center and now I work at The Hundred Wellness Centre. I own a business with my brother – Ryan Penny – that is focused on the development of supplements, we go by the name The Wellness Brothers.
We're here to highlight DNA testing. How long has The Hundred Wellness offered this service, and why was it so important to make this available? We've offered DNA testing at the centre for about 18 months. Why do we do it? Well, it is a well established fact that people respond differently to external influences – whether that be dietary changes, supplementation, medication or exercise (to name but a few). As a result there is an increasing understanding that people need to be treated as such with treatment plans that are specially tailored to the individual. This includes factors like medical history, culture, age, gender and more recently consideration of one's DNA. Ryan and I have been using DNA testing for about 8 years now and we firmly believe that the DNA forms the foundation from which we can develop a comprehensive management plan for our patients.
What company do you use for the DNA testing? DNALYSIS Biotechnology. They are great and based in my home country – South Africa.
Can you tell us a bit more about the DNA testing process at The Hundred Wellness Centre? The patient comes to the center and we collect samples using 2 swabs from the inside of their cheeks – it's painless and quick. This is sent via courier to the lab and it usually takes about 2 weeks to receive the report back. The patient then follows up with me and I spend an hour explaining the results and discussing a plan of action based on them – all while taking into consideration the patient. i.e. we don't treat the genes: We treat the patient with the genes.
Some people are afraid of these types of tests. They worry that they will discover things that they (a) don't want to know, and (b) can't do anything about anyway. What would you say to them? There are tests that provide information about health risks that are unavoidable. We use a company that includes genes, which merely indicate risk that can be influenced by lifestyle – diet, supplementation, exercise, social habits etc. So yes, it may not be easy to receive information about something you cannot do anything about but the test we do is to highlight exactly what you should do to avoid some of the more common diseases we face today.
How much do the DNA tests cost? DNA Health is AED1600. DNA Diet is AED1200. DNA Fit is AED1300, and DNA Estrogen is AED1100. All of the tests include a complimentary, one-hour consultation with me to explain the results and treatment.
What do you do with the information once the test results are back? I spend 1 hour explaining the genes tests and what their results mean. I give a brief explanation on genetic testing and what the letters and names of the genes mean so they can better understand their results and then I provide information with regards lifestyle changes that can positively impact their genes.
There's a lot of negativity about supplements in the world right now. Many people think that they are a gimmick, or argue that we shouldn't need them – our ancestors never had access to them for example. What would you say to that? Yes. In an ideal world we should be able to get all we need from food. But, sadly we don't have the same kind of food that our ancestors did. The nutrient density is far lower. And the fact that we live in places where food has to be transported, sometimes, thousands of kilometers – especially in Dubai – means a lot of the food we eat has been green harvested. That together with the increase of stress on our body from toxins, genetically modified foods, pollution, and geopathic stress, means we actually have a greater demand for nutrients (like antioxidants) to support our body. So: We're getting less nutrients than our ancestors, and we actually need more nutrients than our ancestors. Lastly, advances in medicine have enabled us to determine specific gene variations, which may make certain metabolic processes in our body less efficient and the introduction of supplementation is effective in many instances to overcome these hurdles. So tailored supplementation can be life-changing – where even nutrient dense foods may not have been enough.
What have been some of your favourite DNA testing cases? Can you share some success stories with us? I have tested numerous people who have never had their cholesterol checked, but based on their DNA test reports I have suggested the likelihood of them having high cholesterol is quite large. And in those cases more than 90% of the people I have suggested do the cholesterol test, land up having high cholesterol. In those who implement the dietary changes based on their DNA reports we have seen significant improvements. I can also think of two cases where my female patients have had miscarriages in the first trimester. Changing the folic acid to the correct form has resulted in these patients subsequently carrying to term. This has been a common occurrence with doctors in the U.S. as well.
Can everyone do the tests? Or is it purely for those who have health problems or suspect something is up? No! Everyone can do it. From any age. Your DNA doesn't ever change – and to be equipped with information about your genes from an early age is such a blessing and it can make it easier to implement a plan before bad habits are formed.
Can you talk us through the different tests available? The DNA Health test is the most comprehensive and general. It covers overall health and includes markers for lipid metabolism (heart health including cholesterol levels), methylation (how well your DNA grow and renew themselves using B vitamins in a process of DNA repair called methylation), detoxification (how well your body detoxifies itself), inflammation (checking the genes that govern inflammation are working properly and not causing unnecessary inflammation that can lead to problems), oxidative stress (how well your body copes with oxidative stress and whether you might need to increase your antioxidants to support that), bone health, insulin sensitivity, and food responsiveness (lactose intolerance, caffeine sensitive, salt sensitive, iron overload and polyunsaturated fat metabolism).
The DNA Diet test goes even deeper into food responsiveness, and how your diet can impact your health for the better or worse – based on your unique DNA. The DNA Estrogen test screens any potential issues with estrogen metabolism in your DNA and the DNA Fit test is a comprehensive report on how your DNA impacts your performance in sports or training – a great tool for all budding and professional athletes.
Lastly, if we could only do one test, which would you recommend? Definitely the DNA Health test. It's the most comprehensive and the best place to start.
Join us next time when Holly Hollywould shares her DNA testing experience with The Hundred Wellness Centre.
To talk to us about having your own DNA tests done, give us a call on 04 344 7333 or drop us an email here
---
8 Instagram accounts to follow for healthy eating inspiration
In this blog post we bring eight of the best, motivational Instagram accounts to double tap for healthy eating inspo. It can be hard to stay on track with a healthy regime, especially in Dubai – where you can pretty much order anything to your door in a matter of minutes (and the majority of what's on offer isn't exactly nutritious). These Instagram accounts will help you stay on track – inspiring you to get in the kitchen and create healthy, nutritious and delicious meals for you and your family. Healthy eating never looked so good…
1//
The stats: 272,000 followers
The scoop: Sarah Britton started blogging over at My New Roots in 2007 after she became incredibly passionate about healthy eating and nutrition. Her Instagram account features gorgeous images of delicious, easy to create dishes. We especially love that she revamps some of our favourite cheat-day meals to make them whole, healthy and guilt-free.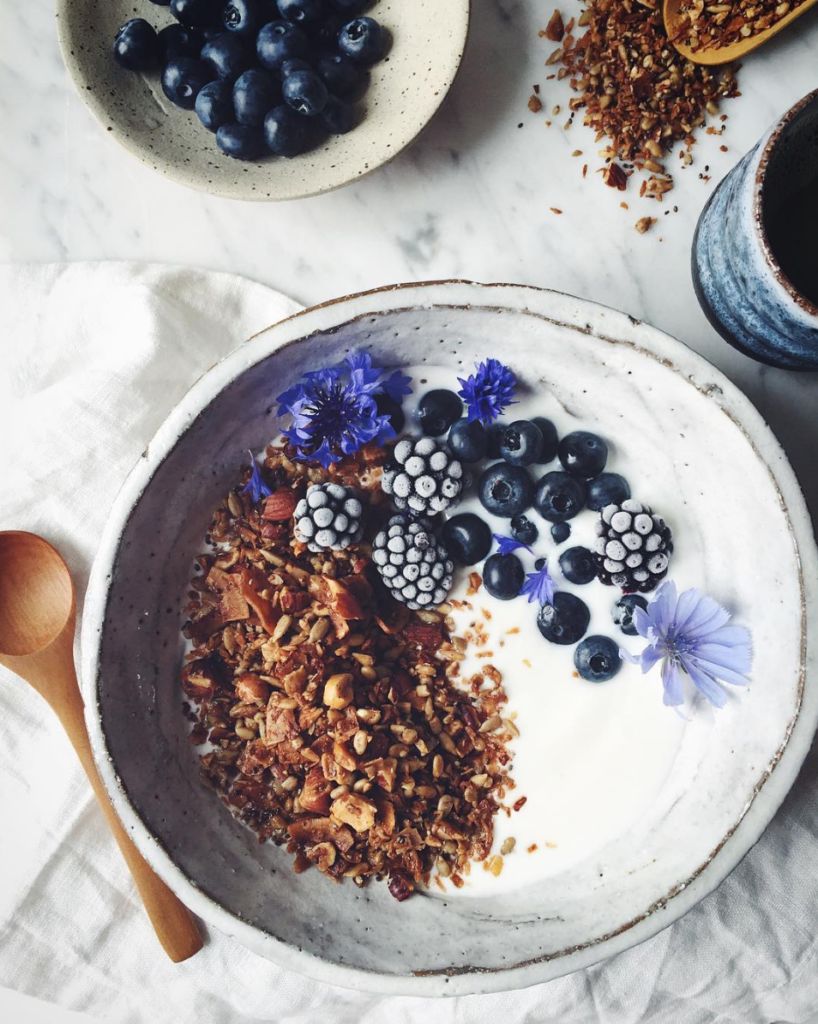 "New blog post! Maple Cinnamon Grain-free Granola that is unreasonably easy and delicious and addictive and all the things. You're gonna love it! #MNRgrainfreegranola #vegan #glutenfree #healthy #breakfast"
2//
The stats: 7734 followers
The scoop: Noreen is a Rhode Islander living in Dubai. We adore her beautiful, inspiring shots of her cooking, travels and cozy corners. The creator of the Noni's Place blog, UAE-based Noreen regularly shares gorgeous recipes for tempting but healthy dishes such as vegan beetroot carpaccio with mint vinaigrette and bright, nutritious poke bowls.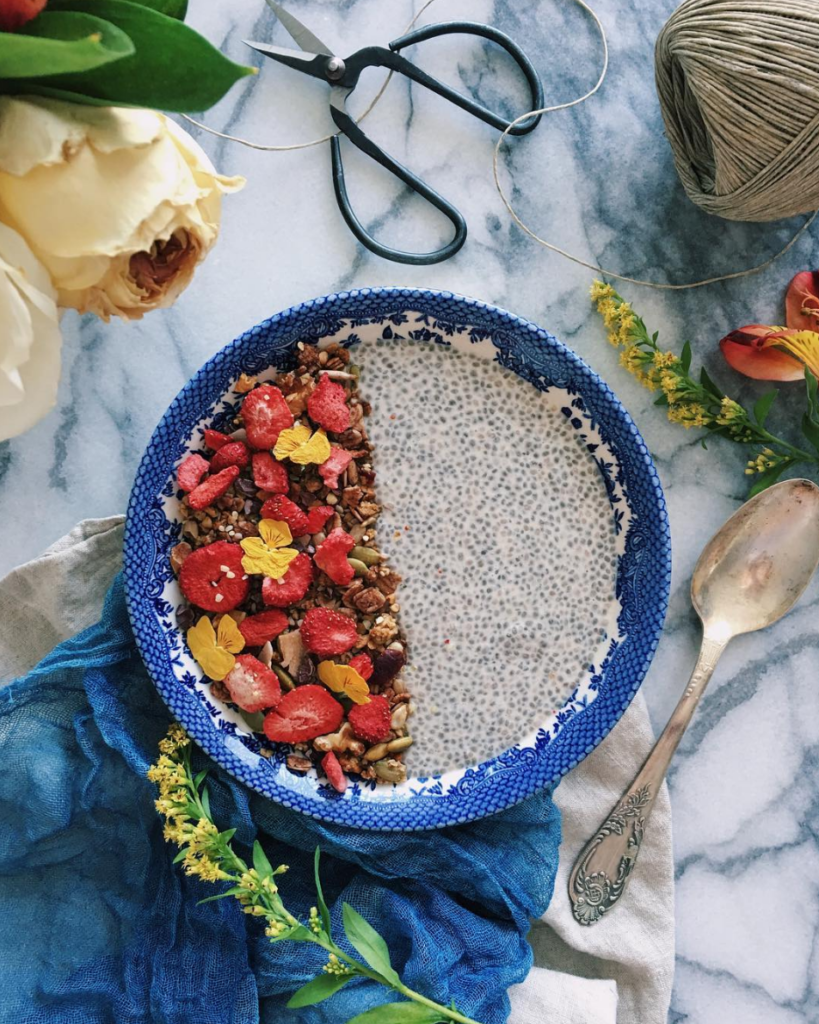 "So I know chia pudding is totally passé now, I still made one anyway because sometimes you just have a craving. I was still hungry so I had two pieces of toast slathered with Quebec goat milk butter (all about balance right?), if you follow me on Snapchat you would know I'm obsessed with it. I wake up every morning just to have that butter!…"
3//
The stats: 320,000 followers
The scoop: David Frenkiel mans this Instagram handle – @gkstories – and regularly shares recipes from the coveted Green Kitchen Stories blog, which he created with his partner and baby mama, Luise Vindahl (who also posts over at @luisegreenkitchenstories). As the name suggests, Green Kitchen Stories is all about nutritious, delicious vegetarian fare. The recipes are inspiring and easy to follow and we adore the ways in which these cute couple come up with amazing ideas for making vegetarian food.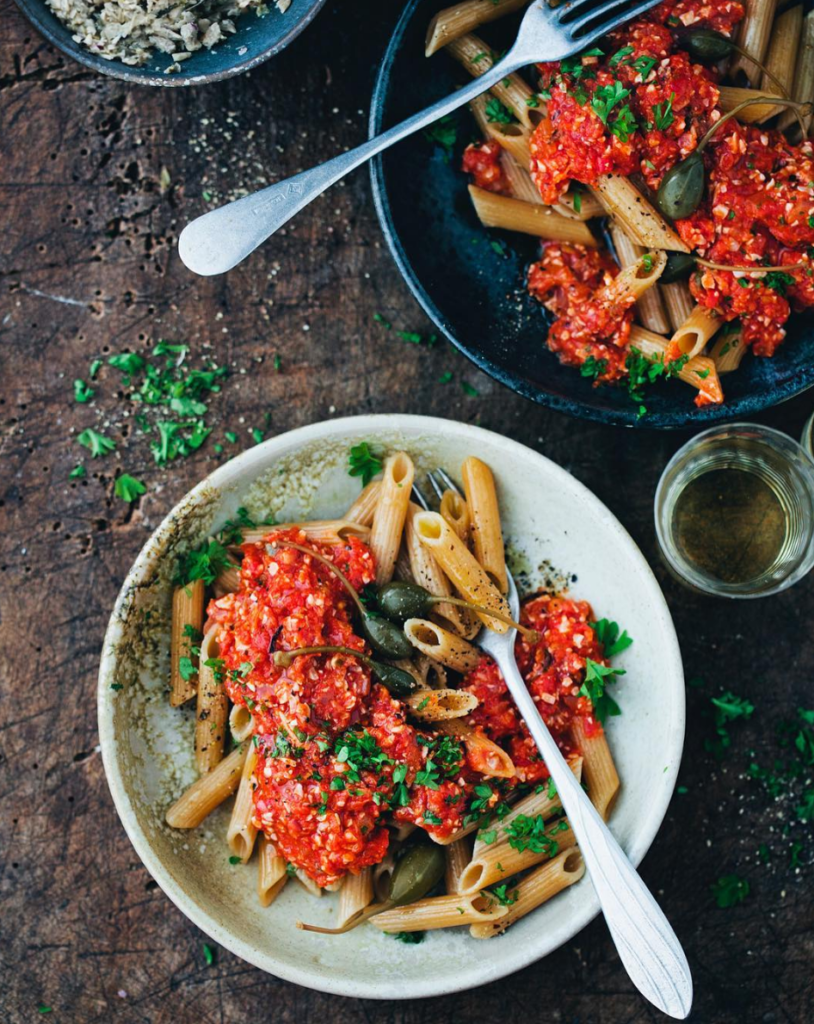 "This simple pasta dish with vegan "tuna" is up on the blog now! So good and well worth checking out if you haven't tried vegan sunflower tuna before."
4//
The stats: 265,000 followers
The scoop: The Hemsley + Hemsley sisters – Jasmine + Melissa – are the health food sweethearts of the UK. Their best selling cookbooks 'The Art of Eating Well' and 'Good and Simple' are well worth your attention, and the pretty duo regularly share tasty, nutritious recipes via their website. (And next time you are in London you should definitely check out their new cafe at Selfridges. Yum.)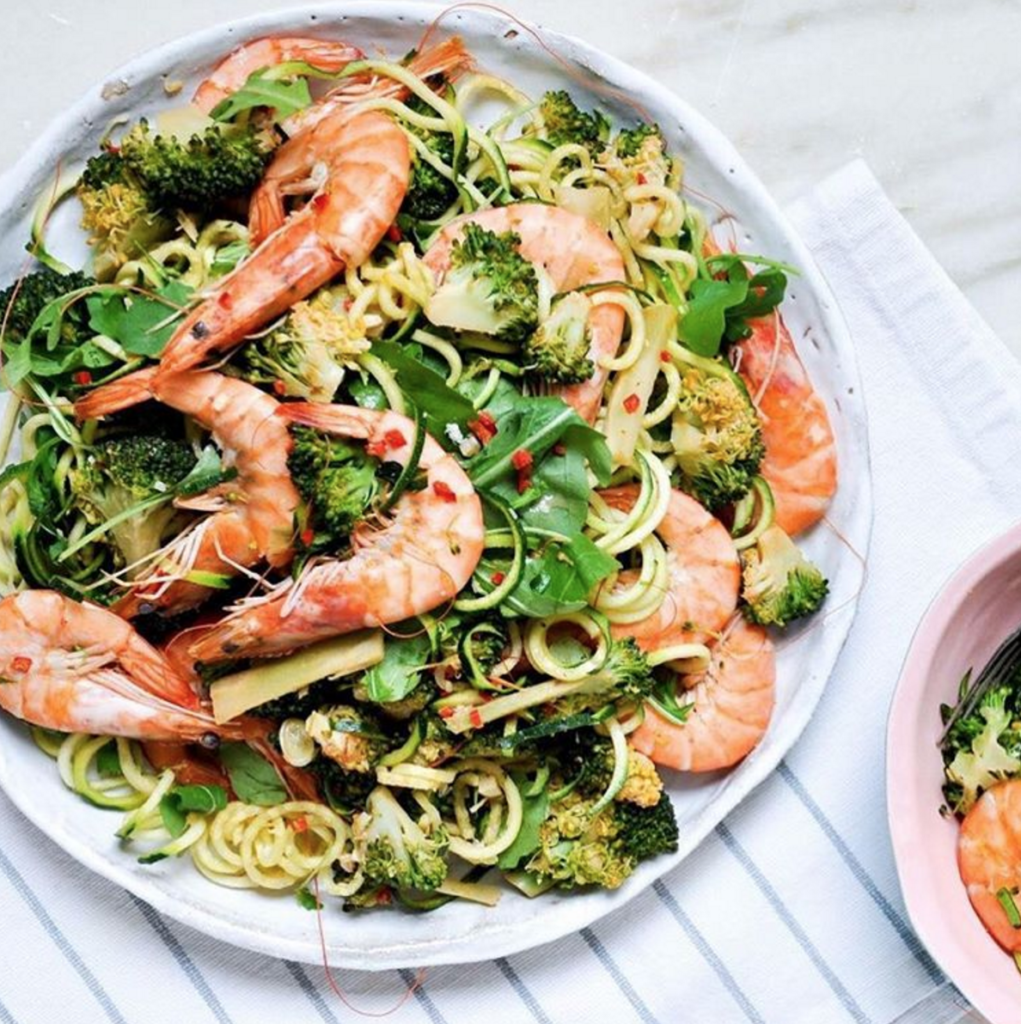 "Lemony Chilli Prawn #Courgetti quick and easy. Tasty hot or cold. Recipe is on page 180 of #GoodAndSimple. Look out for a #HowToSpiralize video coming to our YouTube channel this weekend."
5//
The stats: 54,100 followers
The scoop: Aussie Jessica Cox is an accredited practicing nutritional practitioner with a Bachelor of Health Science (Nutrition) and just under ten years of clinical experience. We love her no-nonsense healthy eating recipes, which are perfect for anyone with food intolerances and her handy guides for ultimate wellness.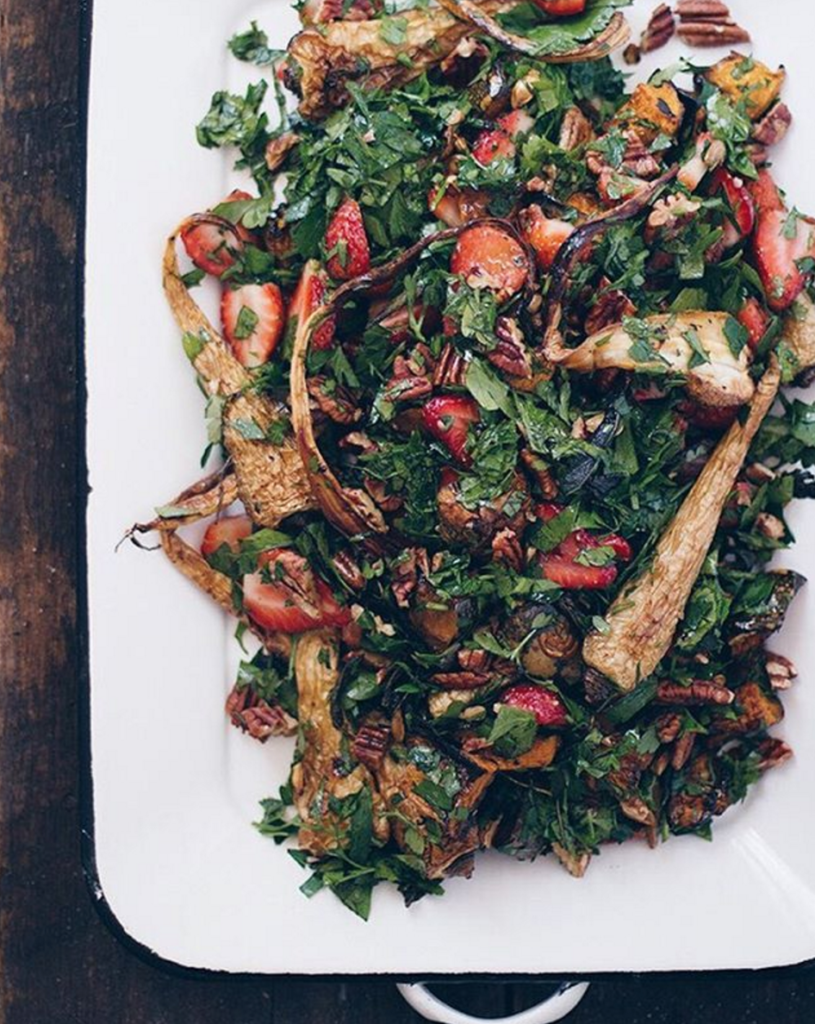 "A seasonal favourite coming to the JCN website tomoz my friends! Honey Roasted Pumpkin & Parsnips with Strawberries – subscribe on the blog to get the recipe."
6//
The stats: 103,000 followers
The scoop: Nina Olsson is a talented foodie, art director and photographer. She blogs delicious and inspiring plant-based recipes on her website – Nourish Atelier – and she has a cook book coming out in January 2017 called 'Bowls of Goodness' (available for pre-order on Amazon now). We love the look of this Butternut Squash and Kale Lasagne creation below… Yum.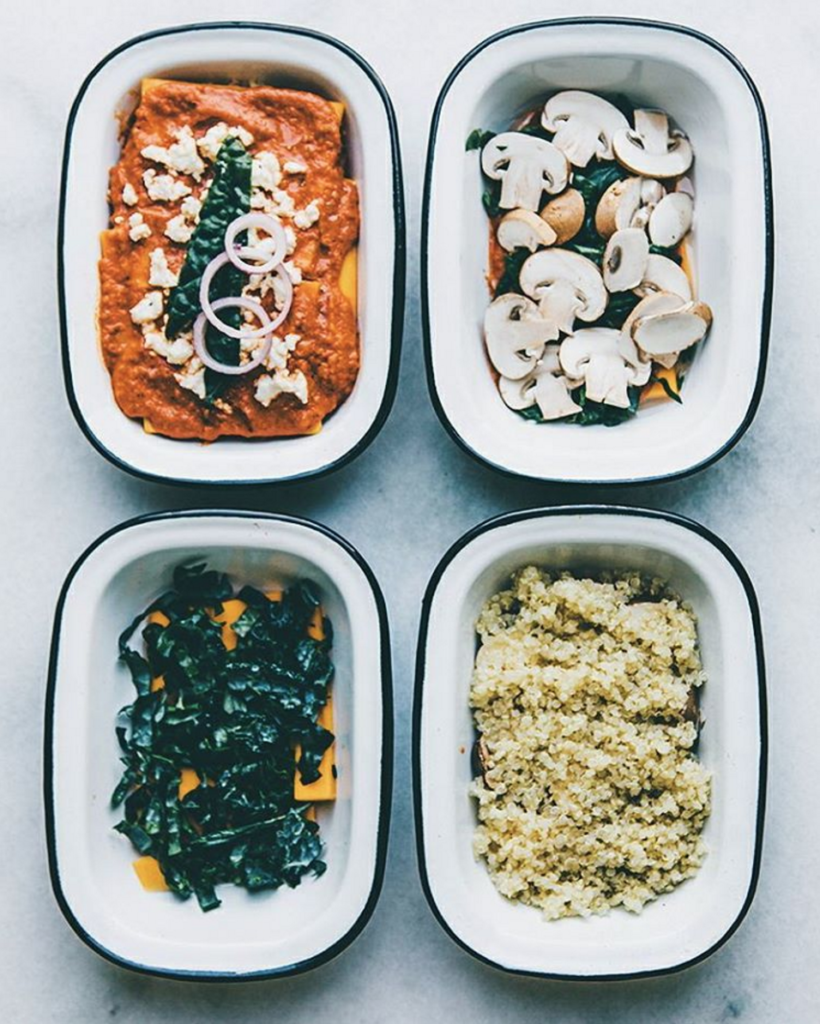 "New recipe on the blog; Butternut Squash and Kale Lasagne (butternut squash makes dreamy good lasagne sheets). Have you tried alternative versions of classic lasagne? What do you layer?"
7//
The stats: 134,000 followers
The scoop: Canadian Laura Wright is the foodie behind the popular recipe blog – The First Mess. Wright shares a variety of easy-to-make plant-based dishes and is also set to release her first cook book in March 2017. The name 'The First Mess' was inspired by M.F.K. Fisher's 1949 book An Alphabet for Gourmets, where Fisher calls the arrival of "the first run (or mess) of peas" in early spring as "the day with stars on it."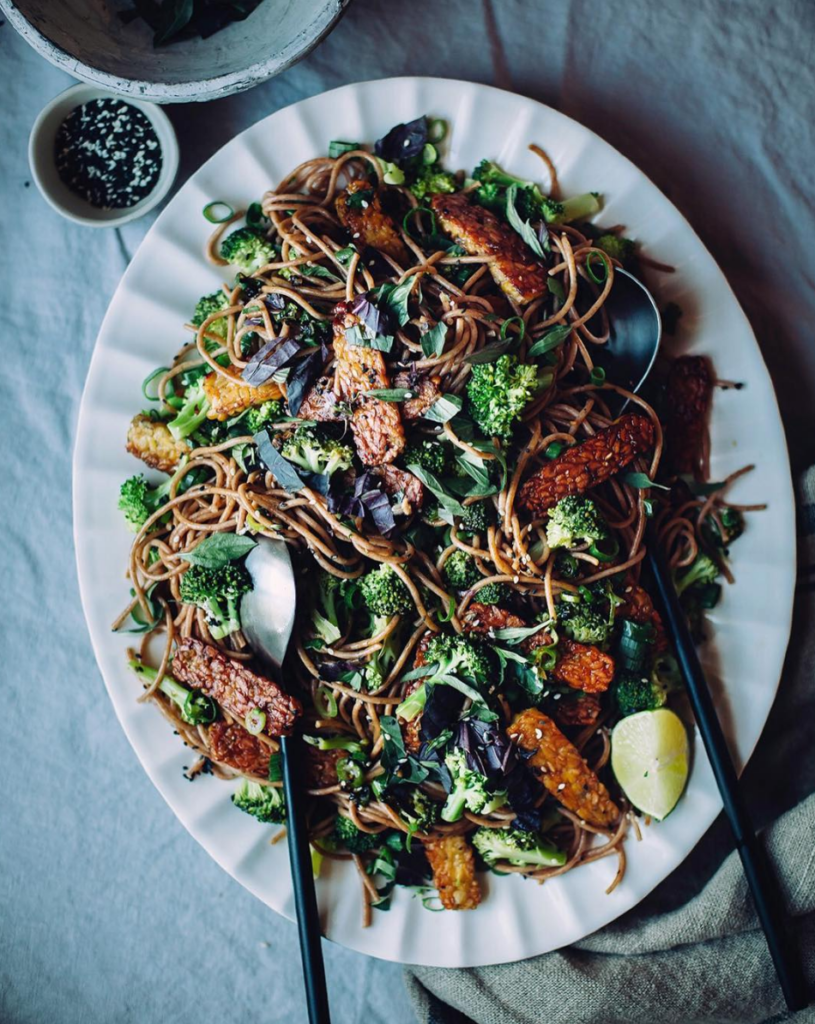 "Garlic sesame noodles with broccoli, basil, and crispy tempeh. Ready in 25 minutes and on the blog right now"
8//
The stats: 232,000 followers
The scoop: Melbourne vegan Sam's Instagram handle is the ultimate healthy dessert inspiration stop. The So Beautifully Raw founder creates the most gorgeous-looking and yummy tasting sweet treats, using plant-based, nutritious ingredients. Unfortunately these gems are only available in Australia at present, however, Sam does share some awesome recipes on her website from time to time. Check it out.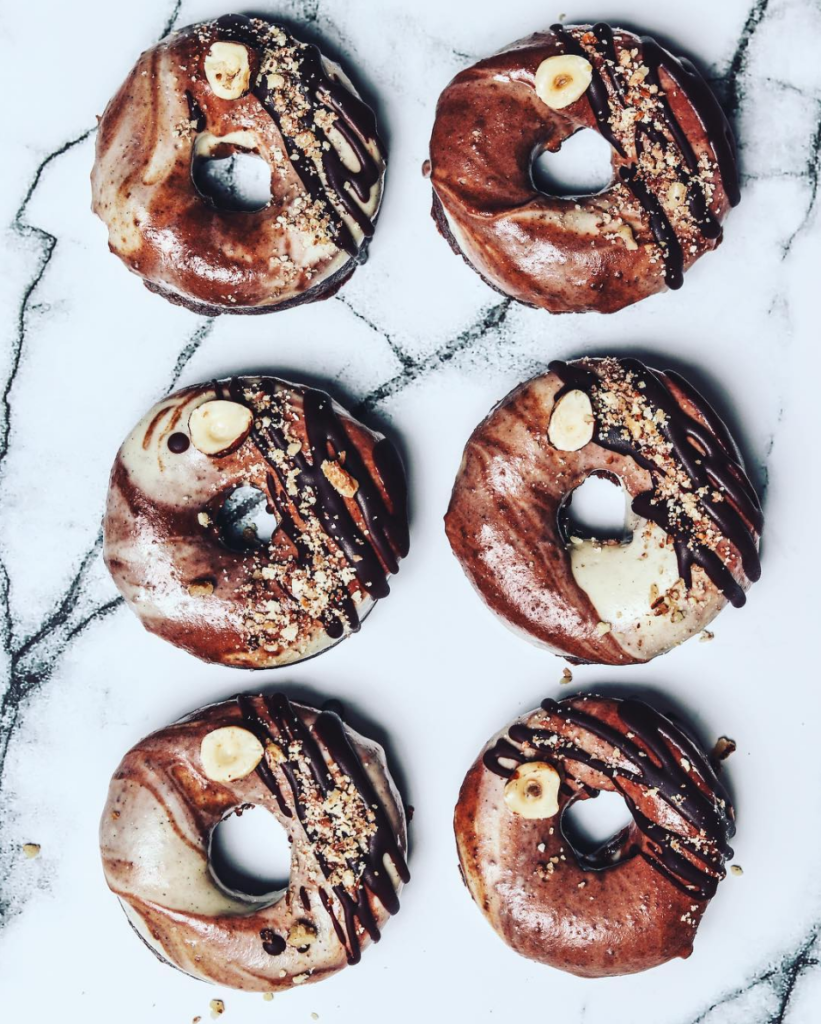 "Ferrero Rocher Donuts! Raw, vegan and gluten-free"
---
pilates – your healthiest long term investment
Health should be everyone's top priority, it is one of the keys to success in all fields of life. Whether you are managing the stresses of running a business and juggling a family, complementing a more physical sports regime, or ultimately working towards living a pain-free life while keeping your body supple and strong as you grow older, Pilates is the answer. Today we share with you expert Alycea Ungaro's view on how Pilates plays an integral part of fitness regimes for all age groups, and why it is NEVER too late too start getting in shape! As the saying goes, age is but a number!

---